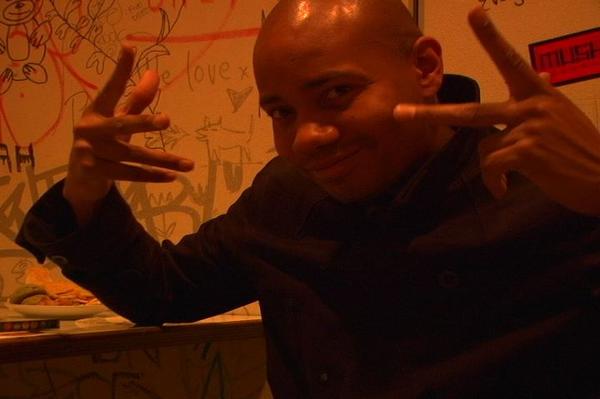 DJ Spooky That Subliminal Kid, aka Paul D. Miller in professional settings, may be the biggest thinker in music today. Last year, I went to a One Pot dinner where he was the guest and it was a joy listening to him talk about the music industry and his ideas of copyright law and intellectual property. After that dinner, we all went over to Nectar, where DJ Spooky had a funky DJ set, playing lots of classic funk and soul and mixing it with more contemporary hip hop. I wrote of that night:
Some of his material screams pretention, like a forthcoming film he's working on after spending time in Antarctica to capture "the sound of ice", but his musical project this evening was much more accessible. Titled "Video Soul", Spooky's DJ set at Nectar was played to a pretty large crowd at Nectar and had gotten a lot of people dancing; going on at 12:30 and continuing until at least 2:20 (when the wine and risotto were finally catching up to me). He had a monitor projecting video of legendary soul artists while he spun and mixed records. Nectar was largely full, although not crowded for the set. Still, even at 2:20, when I left (or was it 1:20 due to Daylight Savings Time?), the place was still about half full. It had the feel of a great party. Although it was the day after Halloween, many people were still dressed in costumes.
DJ Spooky made mixing and turntablism seem easy, going from one beat to another without missing a step (only around 2:15 did I notice one awkward transition) but for the most part it was pretty flawless. He often mixed a lot of soul performances with more contemporary hip hop beats. It worked very well for the evening, giving the crowd big, 4/4 beats to dance to while still hearing music from Aretha Franklin or James Brown or Gloria Jones's original version of "Tainted Love".
At Bumbershoot, there will be two events featuring DJ Spooky That Subliminal Kid: in the NW Rooms daily from 11am to 8pm will be his visual arts exploration of Antarctica called Terra Nova: Sinfonia Antartica and then he'll be in the Sky Church on Sunday, September 6 at 9:30pm, presumably spinning records and certainly educating everyone in the room.
One of Miller's most ambitous projects was Rebirth of a Nation, where he remixes the notoriously racist DW Griffith film Birth of a Nation. Below is the trailer to said project:
[video:http://www.youtube.com/watch?v=3ljIq0lz0qY]