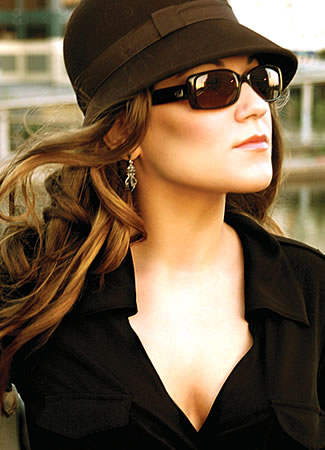 So here's the thing – I don't really like jazz. But I don't really like jazz the same way that I don't really like musicals (films & stage) – meaning that it's a genre that I don't usually dig, but once in awhile, a piece of music will touch me in a way I can't entirely explain, and I fall in love with it instantly.
While Melody Gardot's music is classified as modern jazz, I like it put it in its own category, which is music that makes me want to dress up, watch old movies, and drink cocktails all day.
Melody has a fantastic, old school, amazingly beautiful voice – her songs make me feel like I'm in a Hitchcock movie.  They're warm, romantic, catchy, danceable, thrilling, mysterious, classic and modern all at the same time. Her newest album "My One and Only Thrill" is one of the best things I've heard all year. I've listened to it on repeat more times than I can count.
Behind all this musical greatness is an inspiring back story: at 19, she was hit by a car. Her injuries mean she can't sit down and needs a special chair (or has to stand), and is extremely sensitive to light and sound. Already a piano player, she learned to play guitar and used music therapy as a means of recovery – which has resulted in two incredible albums.
Unfortunately, she doesn't have a web site yet, but she made this extremely cute video to tell her fans that it's in progress:
[Video: http://www.youtube.com/watch?v=FBJ6huo1rFI]
So to recap: Melody Gardot makes amazing music, has a gorgeous voice, has strength, optimism, and determination – and did I mention that she's also absolutely stunning? How could I not crush on this girl?