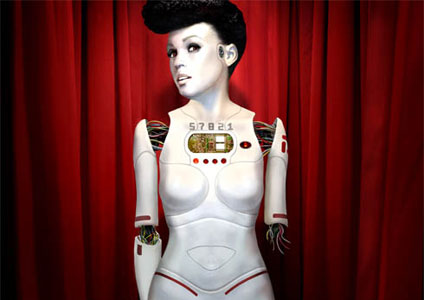 Although finding her way to Atlanta via Kansas City, Janelle Monàe calls herself the "girl from another planet" on her website and that sets the tone for her futuristic R&B and pop music. She planned on releasing her debut album Metropolis (inspired by and named for the Fritz Lang film of the same name)in four "suites" before being signed to Sean "P. Diddy" Combs' Bad Boy Records.
The one "suite" that I have is The Chase, the first part and it's a great R&B EP, especially the single "Violet Stars Happy Hunting!" which begins with Monàe declaring after a brief stutter, "I'm an alien from outerspace, I'm a cybergirl without a face". It sets the pace for her opus, which could be a futuristic musical that has the sexy coolness of a female Prince.
Monàe is an artist who can feel confortable playing to different crowds as she's toured with of Montreal and No Doubt. When I saw her play in Seattle last fall, she was opening for Jamie Lidell. At Bumbershoot, she'll be playing her set early in the evening, hopefully as the weather is starting to cool down and will make for one the acts at Bumbershoot that I have no intention of missing.
Here's the best video I could find of Monàe performing "Violet Stars Happy Hunting!":
[video:http://www.youtube.com/watch?v=GvmveRksQag]
{Janelle Monae plays Bumbershoot at 5:45pm on Monday, September 7 at the Fisher Green Stage}