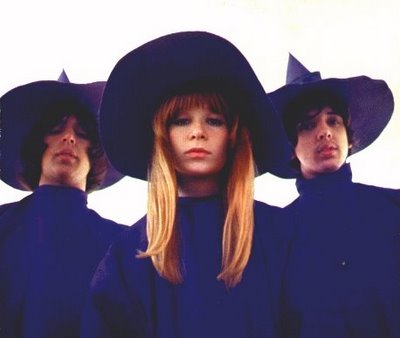 If you know nothing of the Brazilian psychedelia, bossa nova, and rock 'n roll, that is Os Mutantes, it should be enough to know that in 1993 Kurt Cobain asked them to reunite for a leg of Nirvana's South American tour, that Beck references the art movement they were increment to with "Tropicalia" on Mutations, that David Byrne put out a best of Os Mutantes album on Luaka Bop in 1999, and that Kevin Barnes cites them as a big influence in two different interviews. Let's say you're a skeptic and Of Montreal be damned, then here's a mini history lesson:
In 1968 Brazil was still reeling from the 1964 coup and as happens in circumstances such as these, art became more subversive in reaction to this. This was the backdrop for Os Mutantes first self-titled album that came into being with the help of one of the fathers of the Tropicalia movement, Gilberto Gil. Tropicalia, a short lived art movement based on Oswald de Andrade's 1928 poem, "Cannibal Manifesto", was about ingesting art of all media and genre across all cultures in order to create something new and unique. Os Mutantes became the musical poster child for this movement and their music was met with political interventions and, at one of their first concerts their audience was openly apalled at their use of electric guitar, something foreign to traditional Brazilian music.
The original lineup, brothers Sergio and Arnaldo Baptista and Rita Lee, was denounced as American-loving because they were not ashamed to show their love of The Beatles and Jimi Hendrix with the use of Claudio Cesar's (the eldest Baptista borther) homemade distortion pedals and their Voice Box made from a hose running into a hot chocolate can with a mic inside. On the opener of their second album, Dom Quixote, you can hear Verdi's Aida mixed with Ben Hur as the intro to the song that switches between at least three or four different time signatures.
John Cage is freely referenced as a huge influence on the Tropicalia movement that ended after the AI5 was put in to effect by the Brazilian government, allowing them to fabricate charges on intellectuals and artists seen as a threat to public well-being. This led to the deportation of Gilberto Gil and left Os Mutantes leaning more on their rock 'n roll haunches, adding Liminha on bass and Dinho on drums. Despite their best efforts the Brazilian government failed to stop Os Mutantes from putting out 6 of the 8 albums they recorded between 1968 and 1974 (the other two being released some years later). After many changes in lineup, and with most of the original lineup having aborted, Os Mutantes are on tour for their upcoming release Haih, out September 8th on Anti- Records.
Here's a clip of the band in 1968 on television playing "Panis et Circenses," off the Tropicalia collaboration album ou Panis et Circenses, considered the musical manifesto of the Tropicalia movement:
Os Mutantes is playing on the FIscher Green stage on Saturday at 7:15.

[video:http://www.youtube.com/watch?v=g2EKghlmIyQ]