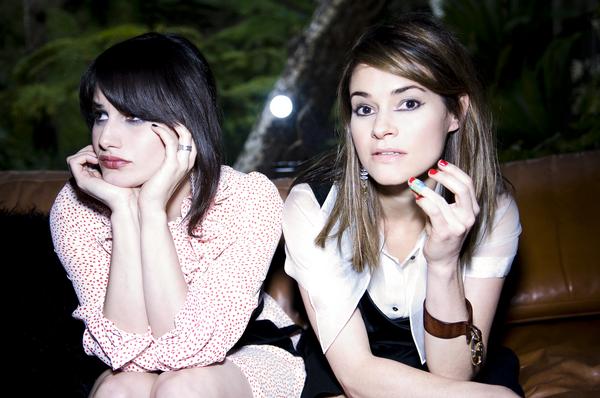 UH HUH HER sounds nothing like the inspiration for the band's name, the Polly Jean Harvey album from 2004. Instead, they would fit more at home on a bill with other synth-dance pop bands like Client or Ladytron (coincidentally, UH HUH HER and Ladytron are labelmates on Nettwerk). When the essential-reading UK website Popjustice named their single "Not a Love Song" as "Song of the Day", they wrote, "[w]e suppose you'll probably be wanting to file this one alonside Ladyhawke, Dragonette 'et al'."
The photogenic, LA-based, electro pop duo consists of Leisha Hailey and Camila Grey and they make catchy dance floor anthems built around the 4/4 kickdrum beat. After USE, UH HUH HER is probably the Bumbershoot band most likely to start a dance party. While "Not a Love Song" is a great dancefloor track, the band can also be more mellow and relaxed with their beats while focusing on the romantic longing of their lyrics.
For what it's worth, Hailey was also a cast member on the Showtime lesbian drama "The L Word".
Here's the video for "Not a Love Song":
[video:http://www.youtube.com/watch?v=uQ9iPPfOMvM]
{UH HUH HER plays Bumbershoot on the Broad Street Stage at 7:45pm on Saturday, September 5.}