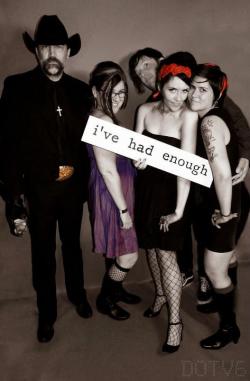 This year is already flying by – which means in just a little over 2 weeks, it's time for Dancing on the Valentine Seven (and the Ragged Tiger)!!!
Jenny George's awesome fundraising cover night for the Leukemia & Lymphoma Society takes place at The Crocodile on Friday, February 10, and features a line-up including TIG's Indie Santa Claus John Roderick, Lesli Wood (of the Redwood Plan) with Jupe Jupe, The Hotels, Katie Kate, Noddy, Exohxo, Princess, Flymoon Royalty, and Daniel G. Harmann with The Trouble Starts.
The seventh (!!!!) annual DOTV gathering marks a return to its original form featuring Duran Duran covers, in honor of Jenny's incredible meeting with the band last fall. Our own Imaginary Dana is Emcee'ing again (yay!), DJ Mike Steve will spin some tunes in-between bands, there'll be some sweet sweet raffle prizes, merch from previous DOTVs, and of course – Ben Haley's famous photobooth!
We hate to state the obvious – but we're giving you advanced warning because y'all better get your tickets now…this thing is gonna sell out.