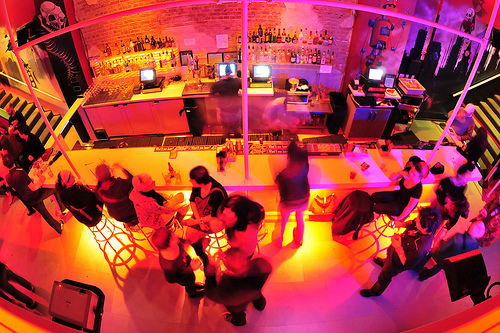 Looks like another Seattle club is up on the for-sale block with a price tag inline with what the Comet Tavern and Crocodile are going for: $425,000. The owner of well-fashioned King Cobra just sent out an email announcing the sale explaining that it's for a variety of reasons stemming from personal financial issues to poor management.
This, in addition to the recent sale of Chop Suey, makes me wonder about the future of Seattle clubs and what the next evolutionary step of the scene will be. Speaking of, did anyone find out what Chop Suey sold for? Was it a bargain compared to these nearly half mil clubs?
I've had some really fantastic times at the King Cobra – I hope someone swoops in to get it back on track.
King Cobra, Seattle's new rock & roll nightclub and venue is for sale!

King Cobra is a rock & roll club in a great location, next to the
Comet Tavern, and across the street from Neumo's. It has a great
sound system, a capacity of 475, and a growing reputation throughout
Seattle as a great place to see a live show. We have a waiting list
of bands who want to play. And our calendar is currently filling up
with more quality shows every day.

King Cobra is currently a venue for live music 3 to 4 nights per week.
The remaining 3 or 4 nights can be used for more interactive events
that encourage audience participation. These events could include
karaoke, rock band contests, game show night, and ssp wrestling. We
make good use of the 4 projectors and a flat panel tv.

King Cobra is also open for DANCE CLUB nights, and comes with a
complete dance floor lighting system with light jockey computer
control system, plus DJ equipment, including Technics Turntables,
CDJs, Mixers, and monitors.

The current owners, and some citizens of Seattle, would like to sell
King Cobra with it's current format, including a great calendar of
upcoming events, and an all-star cast of employees.

We regret that we are forced to sell King Cobra.
The business is for sale because of these reasons:
1. Personal financial issues
2. Management mistakes
3. Lack of experience
4. Lack of marketing

Details:

1. Lease is 12,912.46 for about 6,000 sq. ft
2. Basement "greenroom" or private party room available at 1869 for
1869 square feet. Stairs lead down directly from stage. And there is
a direct entrance to greenroom from 10th Street.
3. There are 2 years on the lease, and a 2 1/2 year extension
4. Currently, drink sales are 50,000 per month, but can be more with
proper marketing, and as we book concerts with bigger draw. The
previous owner did sales of 80,000.
5. Sales numbers are for drinks and food only, not including ticket sales.
6. We are up to date on all taxes and bills.
7. We have a good reputation with the city, the Liquor Control Board,
and the police.
8. Sprinkler system installed throughout the building, including basement
9. Fully equipped kitchen included
10. Breaking news: we are now approved for all-ages concerts (bar with I.D.)
11. Asking price is 425,000

If you are interested, please contact Jamie Garza at [email protected]

Thank you,
Jamie Garza
Owner
King Cobra
(The King Cobra photo: Andy Pixel)