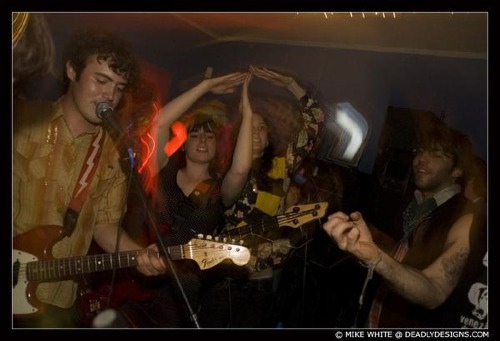 Sure today might be most notable for being the birthday of Stevie Wonder AND Stephen Colbert or the fact that the long awaited Death Cab AND Black Angels albums are hitting the street.
But, what I'm most excited about today is the release of the NANA GRIZOL album Love it Love it! It means that anyone and everyone can go out and get their copy today!
It's been a while since I've been *this* excited about the release of an album. I think it's on par with the elation I feel when I find extremely limited edition releases by my favorite bands in record store bins, or that Neutral Milk Hotel video from their last show ever (at least that's what all the rumors, speculation confirm).
As I spouted when I first heard their record last week, Nana Grizol bring together all my favorite parts of Pavement, Bright Eyes, Okkervil River and Neutral Milk Hotel. Like their forefathers, they cling and clang on their guitars and trumpets in a most haphazardly beautiful, heartfelt way. But, it's lines like "my front porch is my paradise" and "city lights feel so awful / it should be unlawful to live where you can't see the stars" that warm my cockles and convince me to leave the comfort of my interiors to go frolic at the pond with my closest friends.
Is it any surprise that after a week chock full of repeated listens, I'm still weak in the knees listening to each song.
And if I may be so bold as to make the grand statement: Love It! Love It! is going to rank with In the Aeroplane over the Sea as an album that will be referenced as a tried and true work. Perhaps not now… but sometime in the future it will be.
There, I've said it.
Here are some places you can sample the album before you head out to go pick up your own copy (today):