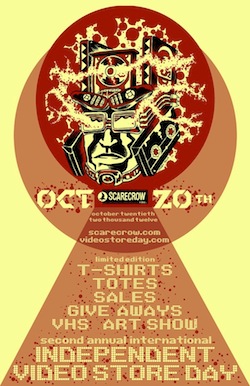 I've said it before: I know all this streaming/on demand business is convenient because you don't have to get off your ass in order to pick a film to watch, but I am a child of the 80s and I still really love going to an actual video store, browsing the aisles, reading the backs of boxes, and leaving with a few choice (or you know, not so choice) picks.
On Saturday, Scarecrow Video is blowing up this year's Independent Video Store Day with the following awesomeness:
– A sweet VHS Art New Wave Show
– A Scarecrow on Seattle rental section
– Coffee & Chai samples from VHSpresso
– Limited Edition Scarecrow Tees & Tote Bags for sale
– 50% off used movies for sale (blu-rays, DVDs, VHS – even Laserdiscs) – Saturday & Sunday
– $3 off new blu-rays & DVDS
– 10 rentals for $35
And! You can enter to win prizes:
– A Full Series pass to the 2013 Seattle International Film Festival
– A theater rental at Grand Illusion Cinema
– Cinema Screening passes for NWFF
– Screening passes to Landmark Theatres
– $25 gift cert + 4 movies passes to Central Cinema
– 5-disc set The Story of Film: An Odyssey
– A Blu-ray & region-free DVD player
+ tons of cool giveaways JUST for walking in the door!!! !! !!! !
But Amie, WHY should we go when we can just grab a video from that stupid red box next to the Bartell's? WELL I WILL TELL YOU. In addition to all the cool stuff Scarecrow is doing on Saturday, I believe that independent video stores are as important as independent record stores. And all you imaginaries love independent record stores, right? I don't ever want to think of a world where Scarecrow isn't there, because that world would very, very sad.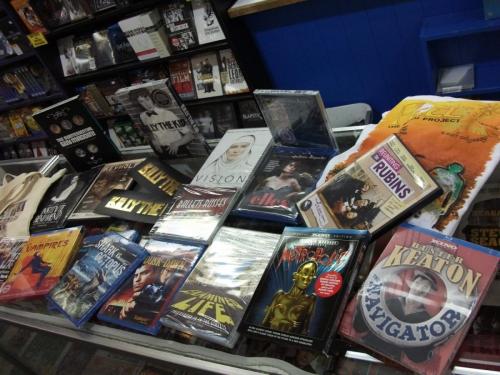 look at all these sweet, sweet giveaways!
Scarecrow Video has been important to me for a very long time. Skipping many days of high school to head down to the U-Dist in search of rare VHS titles, and organizing trips with friends on the weekends so we could rent banned stuff like Faces of Death series, get drunk, and watch closely to determine what was real and what was fake. And when I got serious about collecting, Scarecrow was the place I would go to snap up all the J-Horror titles I became obsessed with, and buy laserdiscs of John Woo movies (only the good ones though).
Scarecrow is still a mecca of film-nerd awesome, as well as just being a good place to rent new releases, or buy blu-rays from. And the recent edition of VHSpresso means you can grab a cup of coffee while you explore the stacks and stacks of DVDs (and VHS! Don't worry, they have VCRS for rent too.) to choose from. SO GET OVER THERE YOU GUYS.
Or you know, go to another indie video store in Seattle and support them instead. There's a Video Isle in both Fremont and Queen Anne, On 15th Video, Third Man Video, and Broadway Market Video on Cap Hill, Rain City Video in Ballard, and I'm sure a few others I'm missing.