This year's City Arts Fest has an incredible lineup, and like much of what goes on in this city, there's something for everyone. Killer lineups at traditional venues, experimental art-house 'secret' shows, happy hours, late night surprises — the list goes on and on. You can head on over here to build your schedule and here to pick up some tickets for whatever floats your boat, and if you've got the means and you're primarily interested in listening to some solid music, that $55.00 wristband for all-access to (most of) the shows is absolutely the way to go.
There's tons to pick from, but if you can only do one show per evening, here's what I humbly suggest you make time for:
Wednesday: Jonathan Russell and Kevin Murphy at All Pilgrims Church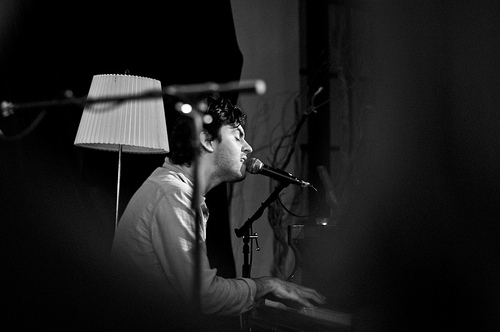 This photo was taken from a performance Jonathan Russell did at the Fremont Abbey (performing in the round with Damien Jurado) earlier this year. If it's indicative of what we'll be hearing at Wednesday's All Pilgrims Church show, you'd best get yourself there early, nab a seat up front, and don't plan on moving for the entire set. It's not simply Head and the Heart-lite — not that a set of HatH tunes would be a bad thing, but from what we've been able to witness, Jonathan takes the time and space in his solo performances to expound on new material and creative covers (hello, "Ain't No Sunshine" by Bill Withers, echoing out into a high-ceilinged, hushed hall) as well as belting out some band selections we know and love. Add the rootsy, engagingly-delivered verbal prowess of Kevin Murphy (The Moondoggies) to the bill, and you've got yourself a no-brainer.
Thursday: Lemolo at the Triple Door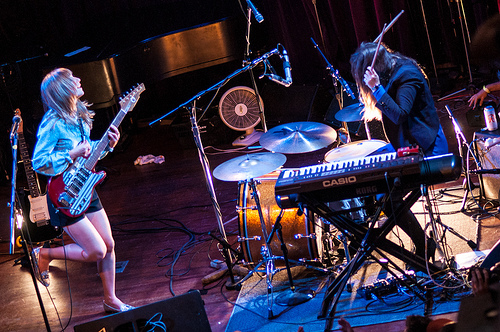 The Triple Door is going to be a near-perfect backdrop-slash-forum in which Lemolo can bring their particular brand of hyper-intelligent, dream-synth to the stage, with a rapt audience to take in their gorgeous, thought-provoking song-gems. To put it simply: I. Can. Not. Wait. For. This. Set. Their album was released earlier this year to much critical acclaim, they're packing venues left and right, and with every performance that emerges and every video that surfaces, Meagan Grandall and Kendra Cox seem to be fine-tuning into a near-perfect version of this… thing that happens when they are together creating art in the same space. If we get there in time, all that + an order of potstickers before the show = HEAVEN.
Friday: Jose Bold and Friends ('secret' show!)… somewhere in Capitol Hill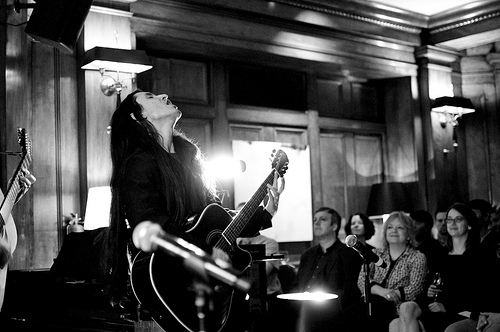 The best way I've ever been able to sum up any performance that John Osebold (nee Jose Bold) and/or more than a few members of "Awesome" are involved in was by stating a few years ago that "…you could tell me that these guys were going to do a Yoko Ono tribute night and I'd still be the first person in line for tickets" — and I still put my whole self and everything I love about music and performance art behind that statement. A chance to see John Osebold perform in any incarnation is a can't-miss, equivalent in his almost indefinable subgenre to the non-negotiable depth with which the Wrens embody indie rock. I mean, seriously: all I know about the show is the less-than-thirty-word summary, which states that "…four sisters and four brothers are drawn to a house possessed by a spirit highway. Anchored by music/sound and performed by a multidisciplinary cast of artists." Outside of a vague notion, I'm not even sure what that means — but I know it's going to be awesomeincredible.
Saturday: DeVotchKa (with the Seattle Rock Orchestra) at the Moore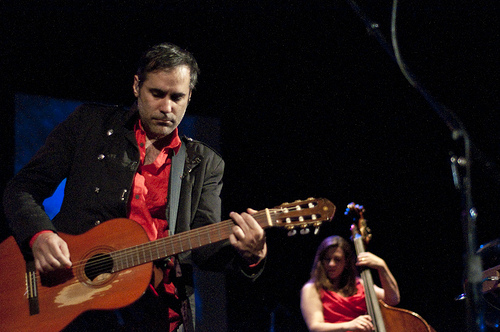 The festival closes out Saturday with a fistful of great wrapups, but I personally can't see time better spent than with a night at the Moore for DeVotchKa. And not just DeVotchka — DeVotchKa with the Seattle Rock Orchestra, which is likely to be a dream of a performance. Can you hear the string section on "How It Ends" filling up the room, or the opening intro to "Queen of the Surface Streets" note-for-note with a room full of musicians carrying it along? If the job the SRO did with the Beatles earlier this year is any kind of a nod toward how this evening is going to go, this night is going to be nothing short of a slam dunk.
{Tickets and scheduling information available at CityArtsFest.com. All photos by Victoria VanBruinisse.}