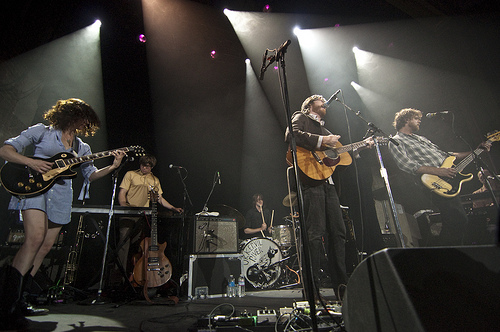 Been to the Neptune for a few shows already? Yup. Us too — most notably that killer night we spent in the front row with Okkervil River back in June! While plenty has been going on there, technically, the venue hasn't been open-open, really, and still isn't yet. But it will be next week, and to celebrate the Real Official Grand Opening, STG will be kicking off a bunch of excellent, free events. Check it out!
Fresh from the press release:
"Through the spring and summer months STG operated The Neptune Theatre with a limited number of events as we continued to make significant improvements to the venue," said Josh LaBelle, STG Executive Director. "Now we're excited to bring you an explosive line up that includes events central to community involvement, beginning with five free public events – you'll also see local artists, concerts, comedy and film at The Neptune Theatre during our Grand Opening season, that runs from fall equinox right into winter solstice."
All events listed below. Doors at 6:30 / show at 7:30, money at no-thirty! It's all free! Seating is first-come, first-served.
Sun., 9/25: Rocky Horror Picture Show
Full frontal festival environment with costume contests, complimentary hair & make-up and props! (Did we mention it's FREE?)
Mon., 9/26: Comedy Cavalcade
Curated by the People's Republic of Komedy, hosted by Luke Burbank (TBTL, KIRO, NPR's Wait, Wait Don't Tell Me); starring Jon Keister (Almost Live), Rylee Newton, Ashley Judd Comedy Hour (Improv), Mike Drucker Adventure Buddies (Short Films). Pre-show 45-minute Comedy Class, best of class showcase kicks off Comedy Cavalcade.
Tues., 9/27: Seattle Voices
Pre-show maritime music performed by William Pint & Felicia Dale. Total Experience Gospel Choir, led by Pastor Patrinell Wright. Includes an audience participatory Gospel Workshop. Performances by rap artist Critical (More Music @ The Moore alum) and EriAm Sisters ("America's Got Talent" finalists, More Music @ The Moore alum).
Weds., 9/28: Salsa & Hip Hop Dance Party
Salsa class led by Vanessa Villalobos & Christian Paquin with Sonora La Rebelion (salsa band), followed by a Hip Hop lesson led by notable choreographer Daniel Cruz with music from local DJ WD4D.
Thurs., 9/29: Acoustic Night
Live acoustic performance by Bobby Long. Openers include Grant Olsen (of Gold Leaves, Arthur & Yu) and Mads Jacobsen (More Music @ The Moore).
And PS, our new favorite venue is booking a literal slew of killer shows in the upcoming months — Stephen Malkmus, tUnE-yArDs, and two nights with the National — check out their calendar and start getting those tickets before they sell out!
We'll see you at the Neptune!
{Photo of Okkervil River at the Neptune by Victoria VanBruinisse.}