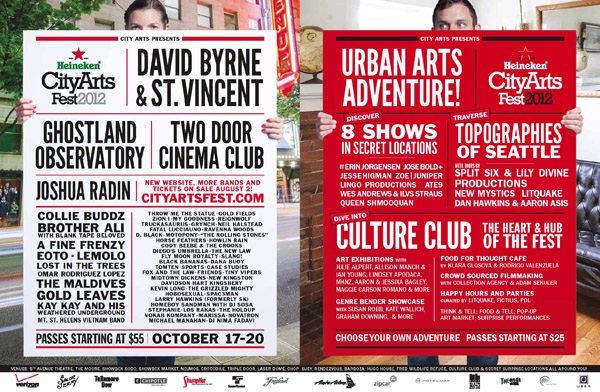 Yep, summer is officially over — the air is crisp, and those sunny, crowded thoughts of festival season are long past. However, smack in the middle of October is City Arts Fest 2012, bringing you one last hurrah of all the local bands and cool national acts that it's able to pack into four days. Not only is there music to be enjoyed, but there's also the super awesome Culture Club, showcasing art and after parties to make your nights (and some days, too) as fully wonderful as possible. Here are some of my personal picks for you to keep in mind as you head into the fest:
Wednesday
David Byrne and St. Vincent are the big draw for Wednesday, and with good reason. The spacey, horn-heavy album Love This Giant is a collaboration that only could be conceived (and executed) by this pair, and I'm eager to hear it live — I've been told the horn section is particularly spectacular. Post Byrne / Vincent, just in case you haven't gotten your fill, you can hit up the David Byrne After Party at the Culture Club — or, try something different and head up to Barboza to catch Mt. St. Helens Vietnam Band at 11:15.
8:30-10:30 David Byrne & St. Vincent, 5th Ave Theater
10:00-midnight David Byrne After Party, Culture Club
11:15-12:15 Mt. St. Helens Vietnam Band, Barboza
Runner-up choices for Wednesday: Jonathan Russell (The Head and the Heart) and Kevin Murphy (The Moondoggies), All Pilgrims Church; Grynch, Neumos; Pollens, Barboza
Thursday
Thursday is a tough day, as there are a lot of great bands playing and really not enough time to fit them all in. Song Sparrow Research and Throw Me the Statue are my two top picks for the night, and having never seen Kay Kay and His Weathered Underground before, I've decided to stay at the Crocodile to check out their psychedelic pop sounds. Following all of that up with a set from Gold Leaves will make it an awesome Thursday night.
8:00-8:30 Song Sparrow Research, Barboza
8:45-9:30 Throw Me the Statue, Crocodile
9:45-10:30 Kay Kay and His Weathered Underground, Crocodile
10:30-12:00 Gold Leaves, Crocodile
Also worth making time for on Thursday: Tomten, Crocodile; Lemolo (with Slang!), Triple Door; Legendary Oaks, Vince Mira and the Dusty 45s, Barboza; The Physics and Mos Def, Showbox Sodo; Joshua Radin and A Fine Frenzy, 5th Ave Theater
Friday
There's a few Unofficial Happy Hour Showcases which start Wednesday but, if you can only pick one, Friday's is the one to catch. Produced by Treefort Music Fest, the Crocodile will be featuring Hot Bodies in Motion, Finn Riggins, Learning Team, and And And And from 5:30-7:00. After the showcase you can walk right over to the Rendezvous for Case Studies, followed by Land of Pines back at the Crocodile, and then one more trip back to the Rendezvous for Tiny Vipers. Finish out your night at Showbox at the Market with Blind Pilot and Pt. Juncture, WA.
8:15-9:00 Case Studies, Rendezvous
8:45-9:30 Land of Pines, Crocodile
10:30-11:00 Pt. Juncture, WA, Showbox Market
11:15-12:30 Blind Pilot, Showbox Market
More killer picks for Friday: Reignwolf, Laserdome; Howlin' Rain, Barboza; Ghostland Observatory, Showbox Sodo; Fresh Espresso, Neumos; Ravenna Woods, Crocodile
Saturday
The nice thing about those Happy Hour Showcases is that it's another chance to catch some of the bands you might've had to miss earlier in the week. Saturday is the perfect example: Ravenna Woods, Lemolo, Mt. St. Helens Vietnam Band, and Motopony are all playing a super-awesome semi-acoustic show at the Crocodile's Back Bar. Once you've got that under your belt, you can spend the rest of the nights hopping between a couple of rockin' sets: Hobosexual and Hounds of the Wild Hunt are at Barboza, then head upstairs to Neumos to see Grizzled Mighty, My Goodness, and the ever-amazing Maldives for a well-rounded (and busy!) end to the fest.
7:15-7:45 Hobosexual, Barboza
8:00-8:45 Hounds of the Wild Hunt, Barboza
10:00-10:30 Grizzled Mighty, Neumos
10:45-11:30 My Goodness, Neumos
11:45-1:00 The Maldives, Neumos
Other excellent shows on Saturday: Murals and The Tempers, Rendezvous; Devotchka with Seattle Rock Orchestra, The Moore; Horse Feathers and Lost in the Trees, Crocodile; Motopony, Friends and Two Door Cinema Club, Showbox Sodo
Tickets are still available (but a lot of shows are sold out / close to it), but going fast — general festival information is available at the main City Arts Fest page here, and you can get a gander at what wristbands are left on the ticketing page here.