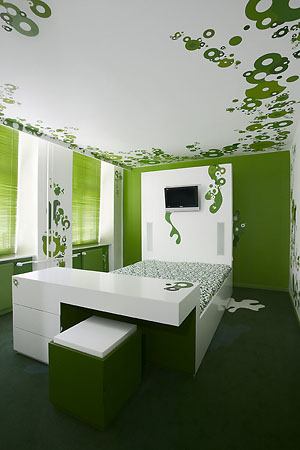 Do you want the "Feeling Special" room or the "Naturally unpretentious" room? Of course, there's 59 other incredibly cool custom-designed rooms — it's kinda impossible to choose.
The redesign of the Hotel FOX was put together as part of the launch of the new Volkswagen Fox. 21 international artists from the fields of graphic design, urban art and illustration turned central Copenhagen's Hotel Fox into the world's most exciting and creative lifestyle hotel.
With 61 rooms, 21 artist, 1,000 ideas, each room is an individual piece of art. From whacky comical styles to strict graphic design. From fantastic street art and Japanese Manga to simply spaced out fantasies. You will find flowers, fairytales, friendly monsters, dreaming creatures, secrets vaults and… well… a lot more.