[video:http://www.youtube.com/watch?v=PZkl1bnzhQ0]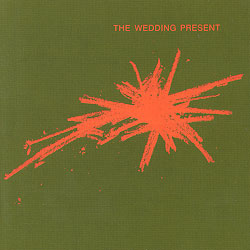 In an unlimited-part series, we're going to celebrate and countdown to the upcoming Wedding Present show at the Crocodile. On Wednesday, April 21, our Balladeers for the Brokenhearted will take the stage and play their influential 1989 album,Bizarro, it its entirety from "Brassneck" to "Be Honest" and some (fingers crossed) b-sides. {Enter to win a pair of tickets to the show}
To mark this momentous event, I asked some fellow weddoes fans to share their Bizarro story, explaining what their favorite song from the album is and why.
Want to share your Bizarro story? Email your story to us at tig @ threeimaginarygirls . com with the subject line of Bizarro.
I completely identify with today's installment from Jill Zak.  In all the Wedding Present shows I've been to on both sides of the pond, I've noticed that a majority of the audience is male. So, it's extra sweet to have a fellow female weddoes fan chime in *and* point out that using Wedding Present quotes is a great way to "test" a persepective date.
Thanks Jill Zak for sharing your Bizarro stories!
____________________________________
I'll start by confessing my undyingly-pre-teenish-adoration of David Gedge. I've 'met' him a few times over the years. He's been gracious enough to sign a couple box sets for me, he politely sold me a shirt as I stood there drooling and speechless. Does he even know what an impact he's had on music over the decades?
My love for The Wedding Present has been a mainstay as well; a lot of this longevity has to do with my just how understated and brilliant Bizarro is. There have been two instances where lines from Bizarro have helped me bridge a gap, so to speak.
The first–after having met a beautiful, stunningly hot man one night, I soon realized that he had very little to offer in terms of conversation. Perhaps it was shallow of me (come on, we've all been there) but I decided not to care and stay in his presence… just to look at him for as long as I possibly could. By the end of the night we were finally alone and he tried all this horrific lines on me. You know the kind of lines that either result in your socking a guy, or just leaving in disgust. I sat there looking at his perfect chin and eyes and nose and mouth…while he was spouting all this crap and without thinking, I countered with 'don't talk, just kiss'. He didn't get the reference but again, I decided not to care and went with it. He followed my instructions and wow. I'd like to thank David Gedge for being my wing man that night.
Ah and yes, breaking the news to my then husband that I was leaving him. The night I told him was horrid, of course. My mind was swarming and I tried to come up with some magic phrase that would get my point across and simultaneously not hurt his feelings. An impossible goal, at best. The only thing that clearly came to mind was 'if we're really going to be honest, we might as well be brief' (from "Be Honest"). All of the sudden, it just kind of spilled from my mouth. As if by magic, it worked. It seemed as though that little phrase spoke volumes to him. Both of us knew that it was over, both of us knew we'd each played a part in the demise of our relationship–so why ruminate? He threw up his hands and said 'you're right'. He didn't get the reference either which was one of our problems… he had such weird taste in music.
So, thanks David Gedge. At this point its fair to say I owe you a drink. Instead, I'll probably just stare in awe when I see you play again.