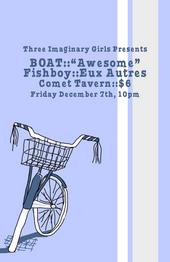 I can't believe my luck that one of my favorite bands from this year's Athens Popfest, and the band that has released one of my favorite albums of the year is coming to the Pacific Northwest and I get to see them twice! Fishboy is coming to town. Fishboy is coming to town!
In case you haven't been lured in by the sweet posters Kiku designed up for us, here's the scoop:
This Friday (12/7) at the Comet Tavern Three Imaginary Girls presents our Fishboy heroes as they take the stage with BOAT, "Awesome", and Eux Autres.

On Saturday (12/8) head up to Anacortes with me to see them at the fabled Department of Safety when they play with Tullycraft, Eux Autres, and The Oregon Donor.
Why do I love Fishboy so? Could it be the fun, dancefest that is their live show. Last time I was so caught up in their show I didn't even flinch when they destroyed home electronics on the stage.
It could be their concept album: Albatross: How We Failed To Save The Lone Star State With The Power Of Rock And Roll. It's an indie-popera of sorts that details our heroes attempts to save Texas and encounter Proper Name Spelling Bees and Taqueria stands. It is so hook-laden and sing-along-able that I can't help but listen to it every day since I got it a couple weeks ago. For reals.
I want to share an MP3 to prove it to you… but which one? I love "Racecar" and "Proper Name Spelling Bee" — but I'll start our week-long countdown to the show with "Taqueria Girl" (another favorite).
Also, they have the full album available for listening at www.farewellalbatross.com — so you can listen to the full storyline there.