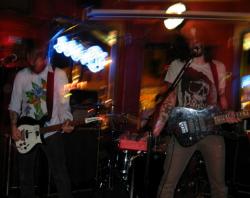 We are always bummed to hear when a Seattle band calls it quits, so it is with great sadness that I report the following: Seattle band Das Llamas just announced that they will "take an indefinite break so that its members may pursue other life interests."
But not all the news is sad — Das Llamas frontman Kerry Zettel will continue to record and perform as See Me River, with a brand new record called Time Machine set to release on Aviation Records* and Don't Stop Believin' Records on August 26th.
You have a chance to say goodbye to Das Llamas as well as a double hello to See Me River at the following live shows:
See Me River: July 11 at the Mars Bar
Das Llamas at the Capitol Hill Block Party: July 25 at the Cha Cha Lounge (final show)
See Me River at the Capitol Hill Block Party: July 26 at the Cha Cha Lounge
*Aviation Records is owned by Zettel (and Steve King) and has some impressive future projects, including the debut full-length release from new imaginary favorite, Spokane's Kaylee Cole.