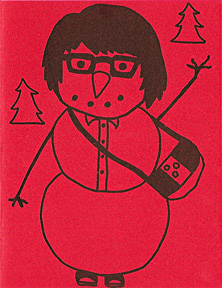 It's around this time of year that I'm actually excited for the holiday season. The stressful countdowns haven't started, the shopping arenas aren't packed with frenzied masses, and yet I can still pick up a soy eggnog latte at my favorite coffeeshop.
It's good to know that our dear friends Art Brut, Chris Walla, The Long Winters and Sufjian are in the holiday spirit with us!
Chris Walla & The Long Winters fashioned up holiday covers that are available for download on Hard To Find A Friend — 100% of the sales are going to Toys for Tots!
Chris Walla covered "Coventry Carol" and The Long Winters covered Harvey Danger's "Sometimes You Have to Work on Christmas."
Art Brut and Black Box Recorder aim for a Number One holiday hit!

As Pitchfork reported:
Eddie Argos (Art Brut) has teamed with another UK act fond of the speak-singing, lovable cynics Black Box Recorder, and a pal who goes by the name of Keith Top of the Pops. Together as the Black Arts, this upstanding bunch has recorded a holiday heatseeker, conveniently titled "Christmas Number One", about– get this– a Christmas single that takes on a life of its own. This "One" has it all: jingle bells, children singing, some tacky rhymes, a bridge in waltz time, the delirious barks of Argos, and the authoritative coo of BBR's Sarah Nixey.

Meanwhile, B-side "Glam Casual" has Argos reminding us that "the internet is full of mean and evil people." Errr…

Fantastic Plastic offers up "Christmas Number One" as a limited edition (1,000 copies) slab of green 7" vinyl on December 10, and as a digital download on December 3. But it's up to you, the record-buying public, to take it to number one.
Sufjan Stevens is spicing up the holiday music nog by devising up a concoction that will give a song to one lucky fan but requires all participants to submit a song. "The Great Sufjan Song Xmas Xchange" is best explained by the Asthmatic Kitty folks:
Sufjan Stevens is busy working on a very special gift right now, for a very special person. And in the spirit of Christmas, that person will give Sufjan a similarly special gift.

Here's how it works: write an original Christmas song, record it, and send the song to us (see below for instructions). Asthmatic Kitty will pick a winner, and that person will trade rights to their song for rights to Sufjan's song.

Just like a gift exchange, Sufjan's song becomes your song. You can hoard it for yourself, sell it to a major soft drink corporation, use it in your daughter's first Christmas video, or share it for free on your website. No one except Sufjan and you will hear his song, unless you decide otherwise. You get the song and all legal rights to it. We get the same rights to your song.

By submitting your song, you also give us permission to stream it online.
Entries are due by midnight on December 1st and they expect to announce the winner on/around December 15th. Read all the small print rules and how to enter here.
(Psst… you can buy that super-cute snowman graphic as a holiday card on copacetique.com!)