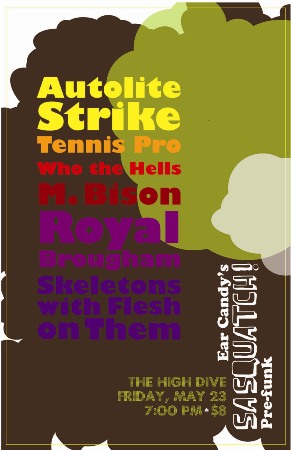 Are you heading out to the Gorge for Sasquatch this weekend? Yeah, us neither. (Sasquatch was remarkably stingy with the press passes for local music websites, grumble grumble, which means we'll have very little Gorge goodness coming your way to TIG, sadly, grumble grumble again.)
But I'm not writing to gripe. I'm writing to tell you about a pre-Sasquatch pre-funk show hosted by Travis from Ear Candy. I'm not really sure what the Sasquatch tie-in is, as none of the bands are playing at Sasquatch… but I am sure it will be a great night for local music. And we always like to hoot and holler about great nights for local music.
The night includes sets from many TIG faves as well as some new bands with very intriguing names who we're eager to learn more about. We will let you guess which is which, as Tennis Pro, Who TheHells, M. Bison, Royal Brougham, Autolite Strike, and Skeletons With Flesh on Them could mostly fit in either category…
The event will be held on Friday night, May 23 at the High Dive in Fremont. Tickets are $8, and the doors are early — 7p.
That Travis is so considerate, he even posted exact set times that include links to the band's websites. How much do we heart that?
Skeletons With Flesh On Them (8:00-8:30)
Royal Brougham (8:45-9:15)
M. Bison (9:30-10:15)
Who TheHells (10:30-11:15)
Tennis Pro (11:30-12:15)
Autolite Strike (12:30-1:15) 
 
Hey, you won't have to stand in line to use stinky Honey Buckets either.
{And if you are going to Sasquatch — and I know most of you are — have fun!!}