Show Date: April 1st
Sunday was a weird day. It was decent out, I ate some vegan ice cream, then it got cold. DAMN COLD. It hailed and thundered. Then tried to snow. April Fools though guys it didn't snow and a surprising amount of teens, their parents and a smattering of adults still showed up at Vera even in the face of inclement weather. 
The lights smacked off abruptly and a retro looking video started, projected behind the drum set and barely illuminating the room. Thunderwerld began performing experimental noise pop, from the floor. Hunched over a mass of looping pedals, a midi controller, a guitar, and maybe a kaoss pad, his jarring pop lurched in and out of time signatures and moods. At one point, the artist got up and played the drums live as well, which added a method to the madness of sorts. I was intrigued, but I want a little more. I'd love to see him collaborate with other artists live. Since he played entirely in darkness, there was a disconnect with the audience. Maybe that was the point though.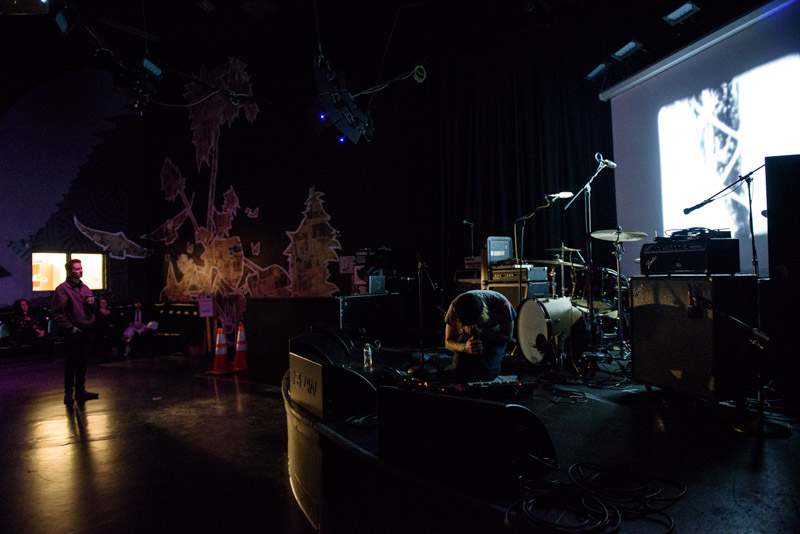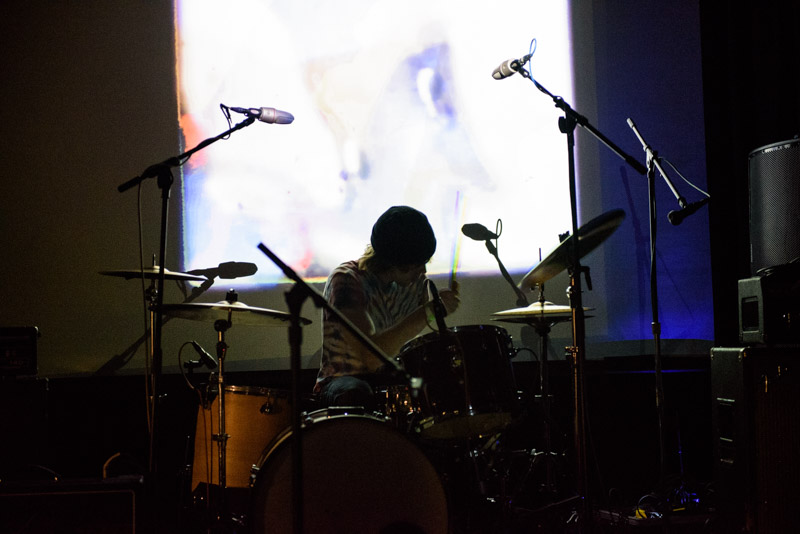 Gezan took the stage next, on tour from Japan and all dressed in various shades of red. It's apparently their thing. Makes sense. They had not one, but TWO camera dudes with them! Their sound careened back and forth from dulcet pop harmonies to screamo backed by dissonant guitar chords. At first I was like, is this a pop band? Is this metal? Then I realized, OH WAIT THESE DUDES PROBS LOVE AT THE DRIVE IN. They were extremely humble and sweet even while dealing with the language barrier. The bass player adorably remarked "I'm very happy, on stage, playing bass for you!" Their energetic set flew by and I hope the rest of their tour is fantastic.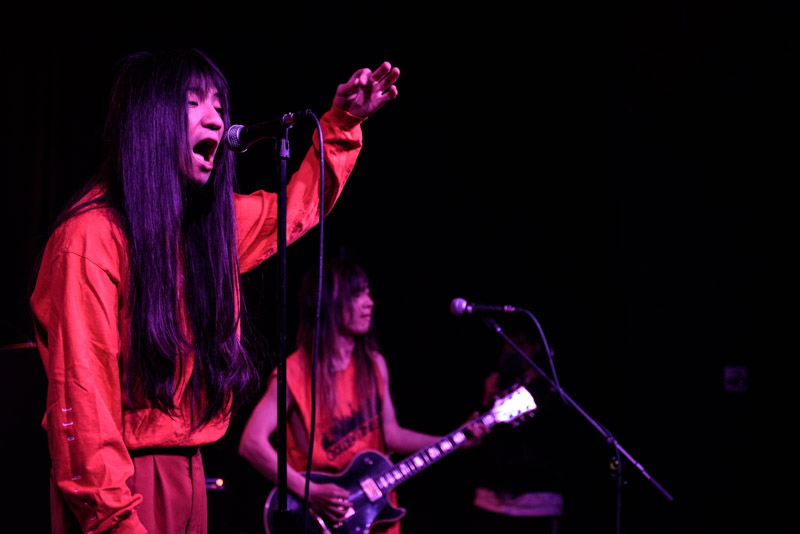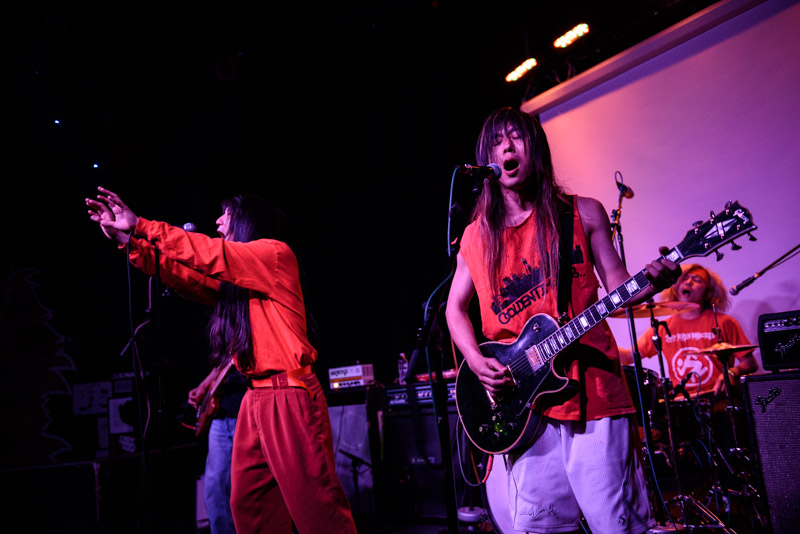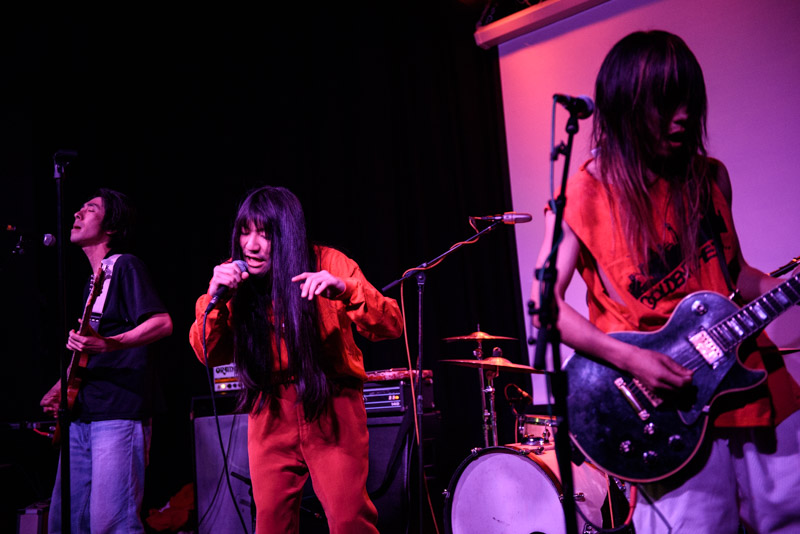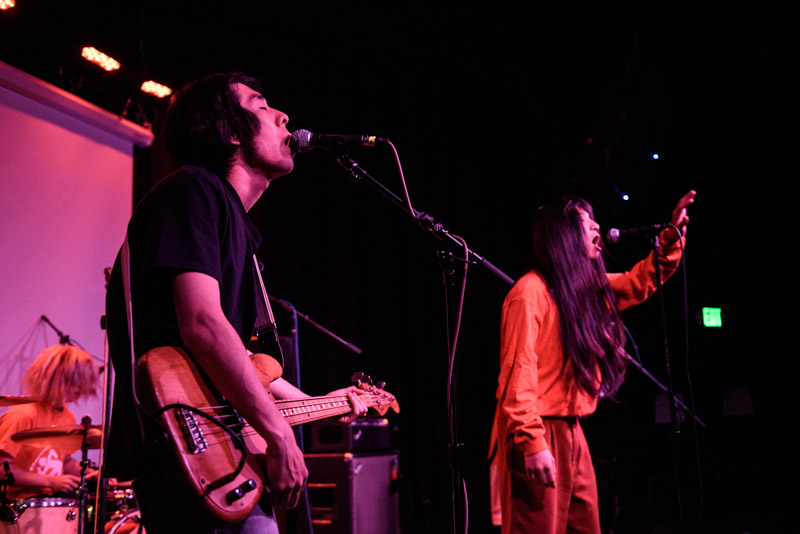 The lights went completely out and Ed Schrader's Music Beat took the stage. "This one's called DUNCE." I audibly squealed with excitement knowing I'd get to see a song that's been in my head for weeks live. Crunchy bass notes reached out through the darkness as a set of LED lights blasted the audience intermittently from each side of the stage. Ed began throatily crooning, sliding across the floor and clutching at the air with tenacity. His intense presence vaguely reminded me of Ian Curtis, though let's be honest, he'd never have made it through a whole set with those strobing lights.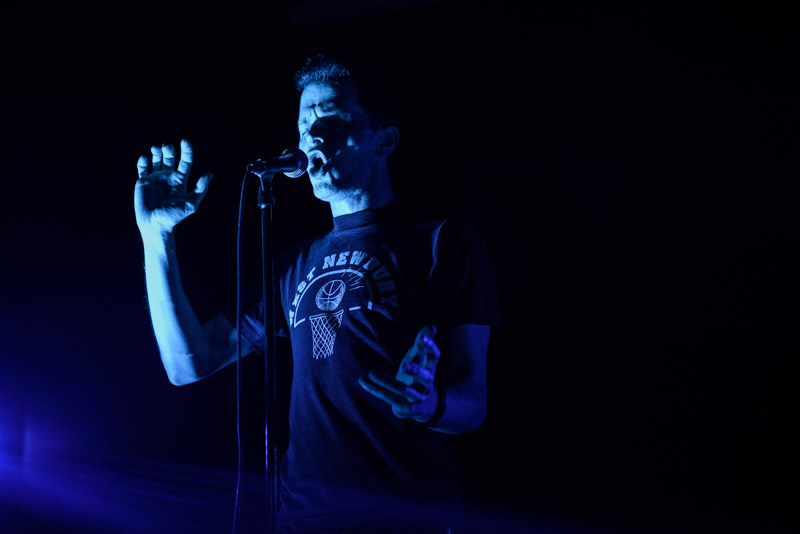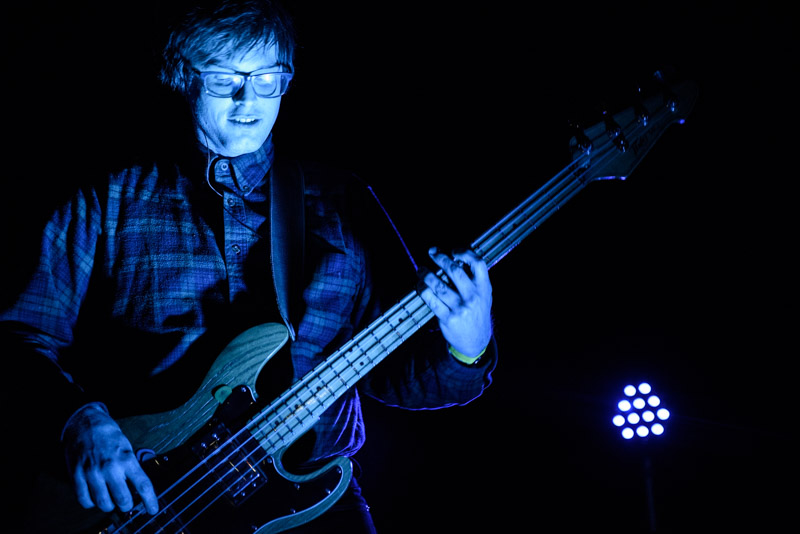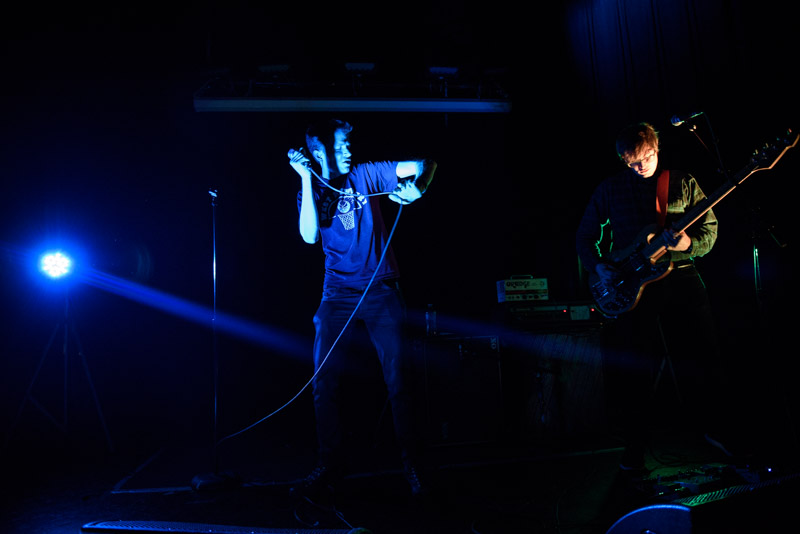 Even though it's just the two of them, Ed on vocals and bandmate Devlin Rice on bass, their performance evokes a weighted effect that few full piece bands can ever dream to emit. Sure they may perform alongside a backing track full of drums, synths, harmonies and guitars, but you barely notice that any players are missing. Their stage banter is incredibly endearing as well, reminding me of a comedy duo, with Devlin acting as the mostly silent straight man. Ed had odd one liners that had the audience giggling awkwardly. "This next song is about eating seagulls!" Later, as he introduced their song "Kid Radium" he urged, "It's okay to dance. You can be political and still dance!"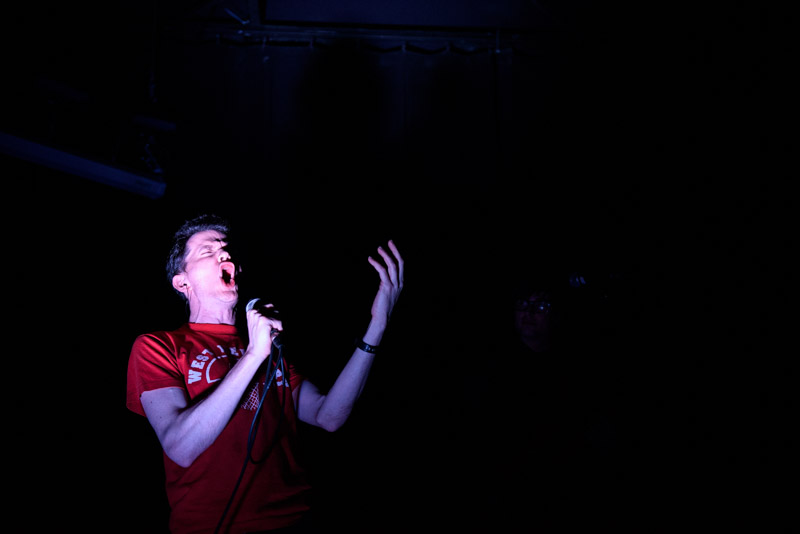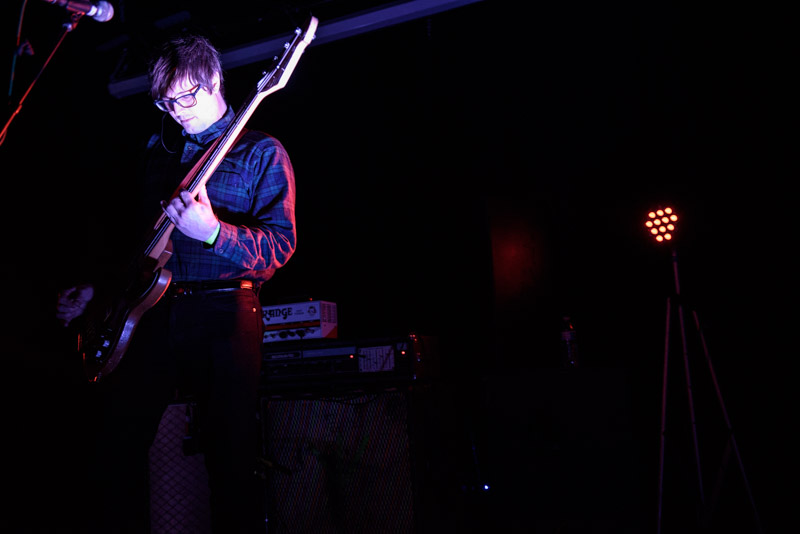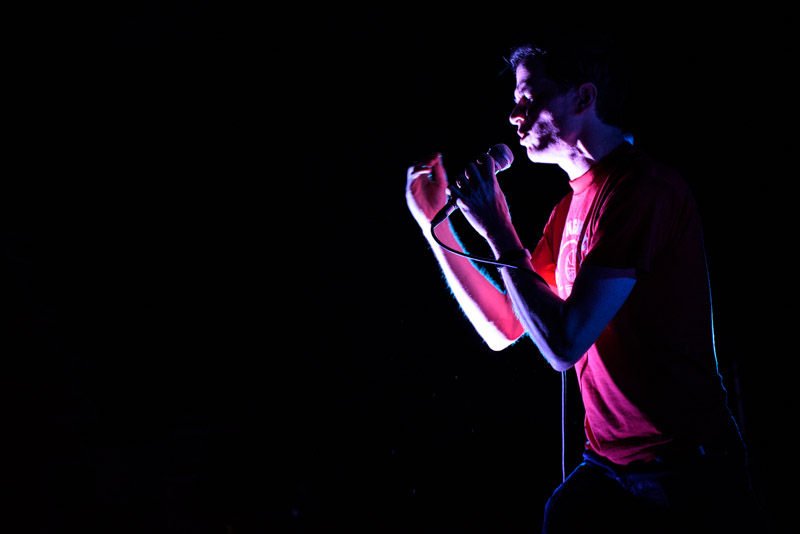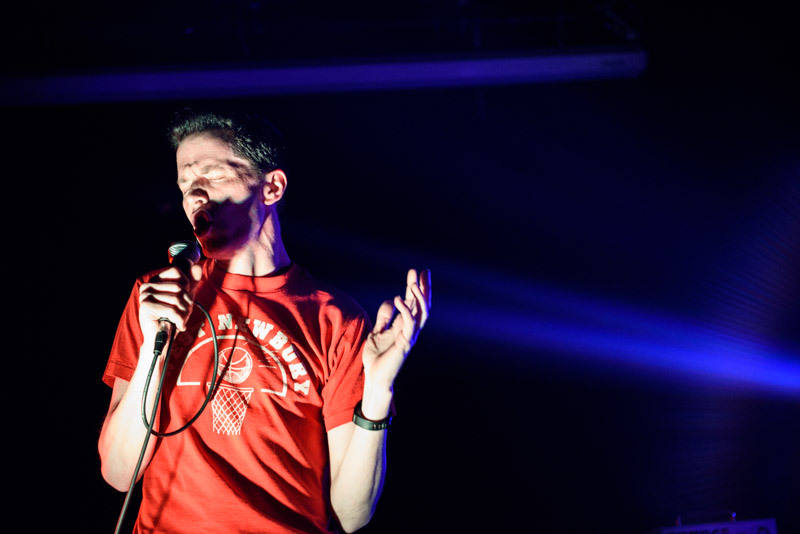 Their new album, Riddles, was produced and co-written by Dan Deacon. Though you can hear his layered electro-pop influence, ESMB has truly made a sound that's all their own. It's likely going to fall on my favorite records of the year list and I highly recommend picking it up! Plus, any band that puts a crossword puzzle on a shirt is A-OK in my book. They've definitely won over a new fan, and I can't wait to see them again live the next time they roll through town.
Photos by Brady Harvey