I hope you're ready for this, because we're about to take your Tuesday from good to grrrrrrrreat!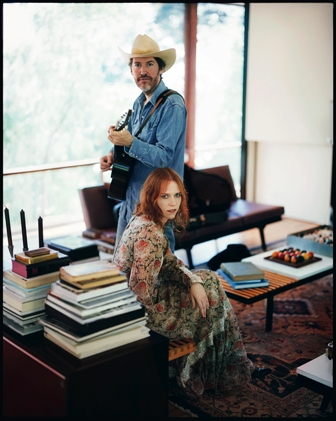 On top of it not being Monday (woo!) as well as the designated day to go-get-the-latest-and-greatest at the record store, this Tuesday we've got a pair of tickets to give away to two rad upcoming shows — Dave Rawlings Machine down at the Showbox on Valentine's Day, and Sarah Bettens over at the Triple Door on Thursday. Seriously!
Touring on the heels of this past fall's release, A Friend of a Friend, Dave Rawlings Machine (aka Dave Rawlings and the ever-lovely Gillian Welch, alongside Belmont Tench of the Heartbreakers, Karl Himmel, and Nate Walcott of Bright Eyes) is bringing their beautiful sound that's "built on the same careful spine that Welch's songs are" to the Showbox this upcoming Sunday. Want to get in on the goodness? Just email tig [at] threeimaginarygirls.com with the subject line "FriendOfAValentine" before 9am this Friday (February 12th). Extra points for your pitch on why you should be the one we pick to attend the show!
And on a slightly lower key but just as lovely note, Sarah Bettens (formerly of K's Choice — a quick Googling will refresh you on their smash hit, "Not An Addict") will be swinging through town this Thursday to headline the Triple Door for our listening pleasure. Her lush, thoughtful songwriting coupled with her dynamic, earnest performance style has had audiences flocking to her shows for over a decade — most recently to celebrate the her latest releases, Never Say Goodbye and Shine. If you want to be part of the action, email tig [at] threeimaginarygirls.com with the subject line "Who'sBettens, Who'sBest" before 9am this Thursday (February 11th). Act fast — that's only two days away!
Good luck, and we'll see you out at the shows!