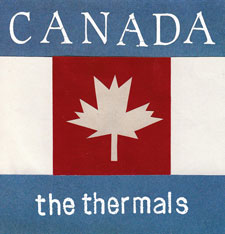 In case you were refilling your cup during the Super Bowl when Denny's announced today is FREE GRAND SLAM DAY (6a-2p), get out there and claim your free breakfast platter!
But that's actually not the BEST thing about today. Out of the blue, I was just emailed a new Thermals song, "Canada" — and it's brilliant and wonderful and makes me feel all Winter Olympics inside.
You can go hear it for free right now and then head to iTunes to purchase it.
Here's the full scoop behind today's highlight:
Don't get us wrong – Buffalo, NY is a swell American town.  But it's not the easiest city to play, ask any band!  So when The Thermals, on a recent tour, found themselves staring down the barrel of a less-than-spectacular night in Buffalo, The Thermals comforted themselves with the thought that the next day they were headed for CANADA.  Toronto, to be exact, where they would headline an amazing sold out show at The Horseshoe Tavern.  Sitting in the van in Buffalo, Thermals guitarist and singer Hutch Harris picked up a guitar and strummed a few chords, and sang a few lines about going to CANADA.  Kathy Foster walked up and sang "Whoa Whoa-Oh Whoa!" as if on cue.  Drummer Westin Glass set a fat beat to it at soundcheck et voila, "Canada".  Seriously, I'm not making this up.  I mean, listen to the song.  It doesn't sound like it took The Thermals longer than half an hour to write "Canada". But therein lies its brilliance!  Totally off the cuff, yet totally sincere, "Canada" is an instant classic, a raucous, joyous ode to our brothers and sisters to the north. CANADA!  Where everyone is funny, friendly and ready to have a beer or seven with you.  CANADA!  Where we'll have everything we need!  CANADA!  The country we aspire to be.
Six Degrees of "CANADA" : The lyrics to "Canada" contain the line "Sittin' all alone / Pick up the phone and call Ramona / Go to Canada".  Ramona refers to Thermals sound woman Anna Lockwood, who sometimes goes by the name Ramona Flowers, a character in the Canadian comic book Scott Pilgrim, by Canadian author Bryan Lee O'Malley.  Scott Pilgrim is published by Oni Press, who share a hometown of Portland, Oregon with The Thermals.  Scott Pilgrim Vs. The World, a live-action film adaptation of the comic starring Canadian actor Michael Cera, is due in August of this year.  Scott Pilgrim is named after a song by the Canadian band Plumtree.
The Thermals are currently finishing their 5th LP, Personal Life, with producer Chris Walla (Death Cab For Cutie, Tegan and Sara).  Kill Rock Stars will release it September 7, 2010.  The Thermals will soon tour The US West Coast, Australia, CHINA, US East Coast, and finally CANADA in July.