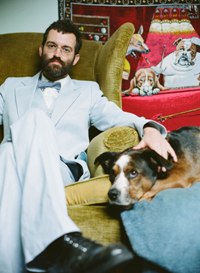 Three Imaginary Girls is so excited to have an awesome set of Eels merch to mark the remarkable release of some major compilations of their "essential" tracks and rarities.
The prize pack we're giving away includes both compilations and some signed vinyl!:
Meet The EELS: Essential EELS Vol. 1, 1996-2006 (CD+DVD)
EELS Useless Trinkets: B-Sides, Soundtracks, Rarities and Unreleased 1996-2006 (2CD+DVD).
Signed copy of 7-inch vinyl – limited edition (3000 made) featuring two tracks – both previously unreleased:

"Climbing To The Moon" (Jon Brion remix)
"I Want To Protect You"
To enter: email us at this link before midnight on Thursday, January 31st, 6p PST.
{Psst — Make sure you include your real first and last name in the body of the email, if your email address is something like [email protected] or [email protected]. Many thank yous!}
If you want to Eels it up while waiting for the drawing, read the imaginary review of the set or peruse these interesting facts / stats about E and the releases:
It's been an interesting and unique journey for the EELS over the past 15 years, renowned for their prolific songwriting, consistently great studio recordings, their idiosyncratic nature and charismatic live shows. Singer/songwriter/multi-instrumentalist, Mark Oliver Everett (aka E) and his revolving lineup of band mates have now unveiled their first "best of" compilation – Meet The EELS: Essential EELS Vol. 1, 1996-2006, and its first collection of rarities – EELS Useless Trinkets: B-Sides, Soundtracks, Rarities and Unreleased 1996-2006.

Spanning the first decade of EELS music, Meet The EELS offers 24 tracks that showcase the band's evolution and growth of E as a songwriter, along with 12 videos. While Useless Trinkets is a must-have collection of 50 hard-to-find B-sides, film contributions and unreleased tracks, and a DVD of live performance footage from Lollapalooza 2006. All music has been digitally remastered and both releases are accompanied by notes from E and full-color booklets.

More release info & track listings here: http://www.eelstheband.com/essential_rarities.php