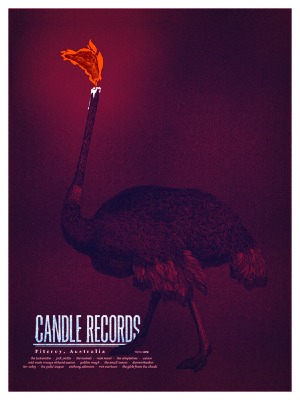 How sad it was to start the day with the "Fond Farewell" newsletter email from Candle Records. After 12 years of providing the finest indie-pop from down under, they are closing their doors.
I (virtually) met this Australia-based record label a few years back when I came upon a little band called the Lucksmiths (praise be to Pete Hilgendorf for the scoop!) and was immediately smitten. As with most new musical loves, I was on a mission to procure every release by the band — and Candle Records, being their homeland record label, filled my fix as well as introducing me to Lucksmiths-like bands to extend my collection further (including the Guild League, Darren Hanlon).
Now it's time for them to move on, and we're left with the assurance that for those looking to pick up any remaining Candle releases, Plastic Viking Helmet Records will be taking on a large portion of the Candle Records back catalogue (the site will be up by mid April) which means the Candle stuff that's still available will be available online through PVH. And, if you want to keep things US-style, you can still pick up some Lucksmiths releases via US-based Matinee Recordings.
But, trying to keep my chin up, I have found some comfort from Mark of The Lucksmiths in the closing statements in Candle's final newsletter::
"Hi Candle Records lovers, the world over! Well, it's with a tear in the eye that we write these words. The last Candle newsletter. What now? Well, luckily I have that information right at my fingertips. We're just preparing all the Lucksmiths titles for release on the Lost And Lonesome website, and though we usually like to do things at a Sunday afternoon snail's pace over here at L&L, I must say, our old friends Copy and Paste are getting a serious workout.
I must admit, the thought of setting out without the guiding hand of Candle is a daunting prospect. Nevertheless, we're big kids now so onwards we forge. In the near future we have some Melbourne shows coming up, followed by a spot of interstate touring. And most exciting for us — we've started writing some new songs! So we hope to see you at a show soon."
Anyway… goodbye sweet Candle Records, goodbye.
(fade in "Candle in the Wind," turn down stage lights)