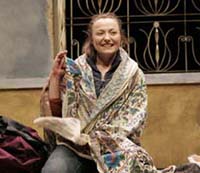 Okay, so my name isn't Rachel Corrie, but there's a really good play about her at the Rep through 4/22.
In case you've been living under a rock, Rachel Corrie was an Olympia native, Evergreen student, and International Solidarity Movement volunteer who, in March 2003, was killed by an Israeli bulldozer set to destroy Palestinian homes in Gaza.
In what amounts to an intermission-free 90-minute monologue, Brits Katharine Viner (a former Guardian editor) and Alan Rickman (yes, Professor Snape from the Harry Potter flicks) have turned her writings into a gripping (if occasionally choppy) posthumous autobio. A new local production has been mounted in the Leo K. Theatre (the Rep's smaller venue), and WET co-founder Marya Sea Kaminski is marvelous in the title role. In her very capable hands, Corrie is neither saint nor insurrectionary: she's a flighty, flaky, impassioned kid whose precociousness and idealism lead to a series of life choices… one of which happens to be a tragic one.
Kaminski is one of the show's two stars, the second being scenic designer extraordinaire (and fellow WET co-director) Jennifer Zeyl. Her deceptively simple set is a wonder of versatility: sloppy Washington college dorm room one minute, bullet-pocked Gaza house the next.
To say that the play invites political debate is to state the obvious — and you'll get both sides from leafleteers outside the theater as you enter. But no matter where you stand on the conflict that has been the undoing of many, and regardless of your opinions of the subject's actions or ideologies, this production of My Name Is Rachel Corrie is an undeniably riveting piece of theater.