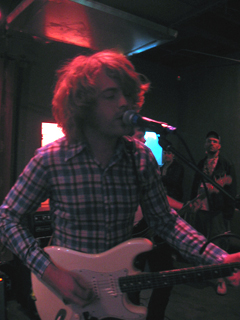 I know at least 12 people that flip at the mention of the band Figurines (imaginary Dana flips out enough for two people). The other 25 people I know just haven't heard their album yet. And, to be fair, 2 don't like it at all.
Thanks to Seattle-label, The Control Group, Denmark's Figurines are releasing of their album When the Deer Wore Blue on September 11.
To celebrate, they are going to tour the US with a stop at our very own Crocodile Cafe.
10-11 Seattle, WA – Crocodile
10-12 Vancouver, British Columbia – Media Club
10-13 Portland, OR – Berbati's
10-15 San Francisco, CA – Bottom of the Hill
10-16 Los Angeles, CA – Spaceland
10-17 Tucson, AZ – Club Congress
10-19 Austin, TX – Emo's
10-20 Dallas, TX – Cavern Club
10-23 Minneapolis, MN – 7th St. Entry
10-24 Chicago, IL – Schubas
10-26 Toronto, Ontario – El Mocambo
10-27 Montreal, Quebec – Club Lambi
10-28 Boston, MA – Middle East
10-29 Philadelphia, PA – Johnny Brenda's
10-31 New York, NY – Mercury Lounge
11-01 New York, NY – Mercury Lounge
Thanks for the good news Pitchfork!