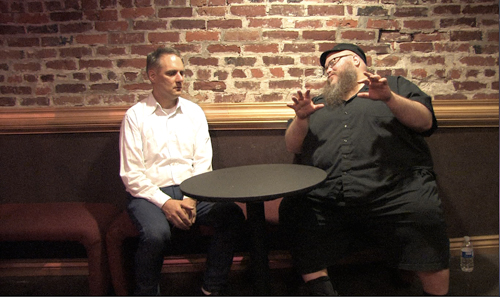 We are always bursting with pride to count Chris Estey as a friend, let alone be honored enough to have him share his words on Three Imaginary Girls. But today, the thunderous applause coming from the imaginary office for Chris is deafening.
This morning we heard the amazing news that there are now public screenings scheduled for Have You Ever Had a Beard?, a new film which captures the first meeting of our dear Mr. Estey (wait, should we make that the title of a new advice column?) and the King of Indie, Calvin Johnson (wiki K Records, Beat Happening, all things rad)!
This meeting of the two mega-minds took place in the historic Columbia City Theater where Chris and Calvin chat and delve into their contrasting tones: Calvin's mysterious cosmos, mesmerizing baritone, and weighted works, with a concentration his latest solo incarnation ("he spits literary bop prosody in the form of three songs") versus Chris's torrential confessionals told with his signature unsurpassable jubilance that spills out like a spoken-word graphic novel (and inspired by Phil Ochs' seminal Greatest Hits album).
The world premiere of the movie is at Portland's Hollywood Theatre on Friday February 24, 2012. Calvin Johnson (who will perform a couple of songs and answer questions) (!!!!) and directors Kathy Wolf and Pat Thomas will be in attendance.
The Seattle showing is a couple weeks later, on Monday March 5th at the Northwest Film Forum in Seattle at 7 pm. Rumor has it that both Calvin Johnson and Chris Estey will be at the Seattle showing (be still my heart!!!).
Mark your calendar!!! We'll let you know when tickets are available for advance purchase.
(photo by Kathy Wolf)