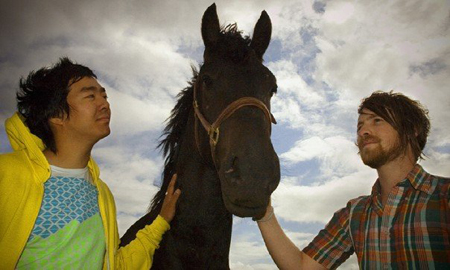 Every noise/drone/math rock show I've gone to has been a sausage fest. Nothing wrong with that — dudes are fine — it would just be nice to go to a loud, noisy show that didn't remind me of my 1980's computer science classes.  Because I know there will already be lots of guys at the Fuck Buttons show on Sunday at Chop Suey,  this preview is especially for the girls.
Ladies, let Fuck Buttons be your gateway band to noise genre. Trust me here, Fuck Buttons are an easy entry.  
Five reasons for ladies to go see Fuck Buttons
1.  Planet Earth is a favorite show of group member Benjamin Power
2.  Their name is Fuck Buttons. That is all.
3.  Video for single Surf Solar features swimming penguins. Penguins! Awww.
4.  A horse (cousin to the unicorn, right?) is in their promo shots.
5.  Twinkle Toes, a short video by and of group member Andrew Hung is way too adorable.
Repetitive build up to big sound with a seasoning of techno is what Fuck Buttons do. Be patient,  it takes time to get there: average track length on their sophmore release Tarot Sport is eight and a half minutes. Yet, the journey becomes hypnotic and time is compressed.
Fuck Buttons (Benjamin Power and Andrew Hung) have been recommended-if-you-like Boards of Canada, Explosions in the Sky, and Mogwai (with whom they toured), among others. I'd add Seattle's own Sleepy Eyes of Death to that RIYL list, for they both do well the wall-of-sound thing which causes your insides to resonate.  Resonating insides. F-yeah.
Have I mentioned the penguins yet? Ladies, just go.
[video:http://www.youtube.com/watch?v=OFbE3lHTcuo]
Sunday, November 15th
Chop Suey // 21+ // $10