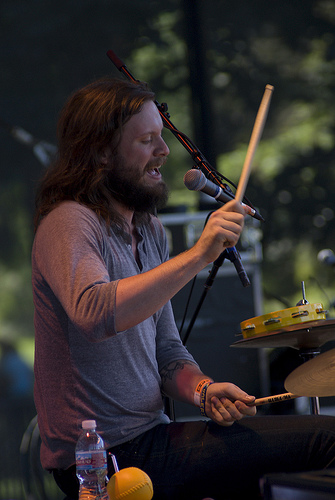 Coming to you live from Marymoor Park, where the Fleet Foxes' J Tillman just instigated a drum-off. I am not effing kidding you. See, the fest is well-organized and highly time-sensitive. As one band concludes, the next is ready to roll on the adjacent stage. But this also means that while one band is wrapping, the other band's crew is running soundchecks.
This happened once already, as Helio Sequence's trippy vibes played out while some ass clown was having a conversation with his pal, on the mic one stage over.
The Fleet Foxes embraced it the best, however. During their serene, tranquil set, The Fluid's drum crew (perhaps the actual drummer — I couldn't see) began wailing on the kit. Not to be outdone, J Tillman picked up his sticks between songs. "It's on, mother fucker." And he progressed into the first of two drum solos. The Fluid's drum tech answered, and Tillman blew him out of the water with his next fill — though he stopped himself short halfway through. Shaking his head: "I told myself this would never happen…"
Only at SP20.