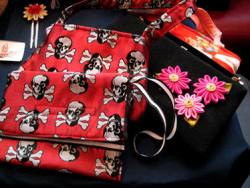 This Sunday, November 4th from 12noon to 4pm, our friends at
I Heart Rummage
will be celebrating the sixth anniversary of the monthly craft revolution! There's going to be cool new vendors, our favorite returning vendors and even birthday donuts from
Mighty O Donuts
!
Want to get a sneak peek at what your eyes will adore? Click and peruse just a few of this Sunday's many vendors:
Last month, I stopped by the I Heart Rummage show at the Crocodile and was astounded by the packed house with goodies goodies everywhere! The show featured all kinds of breakthroughs in craft technology and fabulous design.
Since then, I've been mentally prepping my lists and stamina for this very special I Heart Rummage celebratory Sunday. And, as much as it scares me to say it, the holidays are coming, and this is a perfect opportunity to get a jump on the gift lists and ideas. The only thing is, I usually end up treating myself to a couple one-of-a-kind items along the way. Eep!