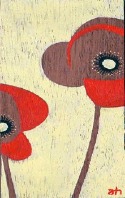 The holidays (and my birthday) will be here before you know it… and it's just about time for you to start your shopping (if you didn't already start the fun at last week's I Heart Rummage event).  Really, I can't urge you enough to prep for the upcoming holidays (my birthday included).
This weekend is a great opportunity to do just that – head over to the Ballard Artwalk and, most specifically, Velouria's event that kicks off this Saturday, November 10th, from 6-9pm.
This month's featured artist is local artist Amy Hevron who Dana has been urging me to go see pointing out that the cute vintage-y designs on wood are right up my alley.

Also in attendance will be local handbag designer Allison Kline of Mish Mash bags. She will fill the place with lots of new vegan friendly waterproof vinyl handbags and clutches.  She will also be taking custom color orders!
If interpersonal interactions aren't your style, Velouria will also be launching their online Velouria top 8 section on the website coming by mid November.  The section will spotlight 8 seasonal limited edition handmade items that you can order and they'll ship right to you!  www.shopvelouria.com