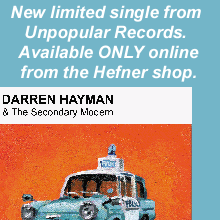 You know how there's all those extreme home makeover / what NOT to wear shows that help people ditch their not-so-stylish ways?
I think there there should be a Ty Pennington (or someone a bit less annoying, but just as enthusiastic) to burst through someone's office door and give their website an extreme makeover.
How many times have you gone to a band or label site excited to see what they have to offer (especially after hearing some killer songs on their MySpace page) to find a page that is overtly reliant on tables and a wacko color scheme?
Take, for example, the website of Darren Hayman — the fellow from Hefner. I sooo dig his Hefner and French songs. I am on his mailing list and love hearing all about his shows (always in fancy Euro locales) and listening to new songs posted on his site or videos on YouTube — and he is quite a nice fellow. But I have to admit, I have a hard time sending folks to check out website because the design isn't so friendly.
For a while I treated it like the table-format'd site was like that on purpose. But today when I was looking for a link to his MP3s, I realized that I can't explain it away. Is it designed to follow the Menomena tradition of web design (which may cause one to launch into spasms while navigating through)? Can Web-Ty blast into his flat and take his site to the next level?
Let's face it, no matter what you think of their music, the They Might Be Giants website is a masterpiece of interactivity and a pretty resource for fans and newbies. They actually have multiple sites to manage it all and even their 'temp' site puts others to shame. It'd be great if Darren/Hefnet.com could wow folks with pretty colors, organized links and images with proper resolution.
I know that we're all busy (and that my own sites aren't winning webbies just yet) and I also know that there are a ton other sites out there that fall victim to this; Aren't there some design students who need internship credit that can jump in and save these visually afflicted sites? Or should bands just jump on blogspot and wysiwyg it? And, as someone who can barely match her knee socks, am I coming off like a picky lame-o? Yes, I know I am. Is this web-nerd-core?
On a related note… I am super excited about the release of Darren Haymen's latest effort: Darren Hayman and the Secondary Modern. They're releasing a single (only available on seven inch) and limited to 500 numbered copies. It's not available in the shops but you can buy it from www.hefnet.com (there's a button for it somewhere) or Unpopular Records. Also, they're rumored to be working on a full-length album. YAY!