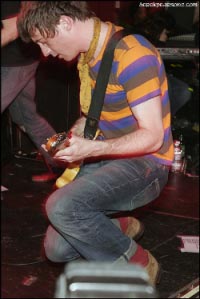 Who needs Damon? Graham Coxon is not only working on his next album (YAY), he took the time to talk to VBS.tv to discuss the state of US vs. UK bands, Blur vs. Oasis, his Pisces tendencies and life without sneakers.
Part 1 of 4 –
In this edition of Soft Focus, Ian talks with the former Blur guitarist about why Brits write off American bands as lazy while local bands who fade into the woodwork onstage get a free pass.
Part 2 of 4 –
In the second part of their conversation, Graham discusses his mixed feelings at being dragged through the whole Blur Vs. Oasis media circus.
Part 3 of 4 –
In this third part Mr. Coxon describes being a Pisces alcoholic and we learn "refutation" is a good word.
Part 4 of 4 –
Sneakerless since 1996.