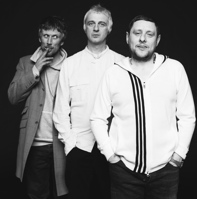 The Happy Mondays have not only signed on to play Coachella this summer, but are saying that they've finished recording their first album in 15 years. Whether the album is actually on tape/disc or still in someone (Shaun's) head is unknown. In the wake of a rash of the releases by some young'uns out there that have honed in on the drugged trip britpop state that the Happy Mondays trademarked, the prospect of a battle between the influential and the influenced is quite delightful. That is, unless the HM's forgot how they did it the first time.
Here's the full scoop (and some surprising trivia):
Happy Mondays have recorded their first album in 15 years—three band members lighter, several solo projects, two reunions and a whole lot of living later.

When they formed in 1985, Happy Mondays built their sound around hip hop beats, funky bass lines, blues guitars, samples and Ryder's inimitable lyrics, a compelling mixture of street slang, drug gibberish and menacing sexuality. All these ingredients are still present and correct, mixed into a fine new stew by the band and their producer, Sunny Levine (son of Simply Red/Sly And The Family Stone producer Stewart and grandson of Quincy Jones).  Rockier than the Happy Mondays' classic 'Madchester'/baggy days, it's still easily identifiable as their own. The album has been mixed by Bjork and U2 producer Howie B.

The other helping hand is that the Mondays are – drum roll please – clean and straight, a far cry from their last album, 1992's "Yes Please!", during which their notoriously dissolute lives eventually led to the band's demise.

Ryder in particular is the picture of health, a family man who's substituted a mountain bike for the bong. "We're all too old for that shit now," Shaun says. "I have to admit, though, that this is the first time I've ever been out in this business – and I've been in this business since I was 18 – that I've done it straight, not using crack or heroin or whatever." Despite this new found lifestyle Shaun's lyrics remain true to the title of modern day poet still displaying street savvy and cartoon lyrics delivered in the true deviant style his fans love him for.

Whilst Shaun focused on his health, Bez won over the hearts of the UK by winning Celebrity Big Brother in 2005 proving that the Happy Mondays are still one of Britain's most loved bands.

A touring party featuring original members Shaun, Bez and drummer Gary Whelan will, on Sunday 29th April take to the stage at Californian festival Coachella to debut their new material. This will be followed by a tour of small UK shows in May.
 Now I wonder, is Pete Doherty (The Libertines, Baby Shambles) the present day Shaun Ryder?