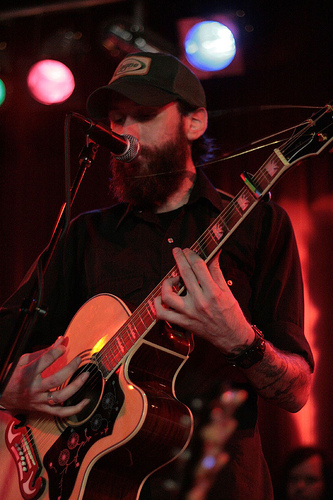 It's no secret around here that one of the greatest musical happenings of 2007 for me was Grand Archives, the latest project of the amazingly talented Mat Brooke (ex-Carissa's Wierd, ex-Band of Horses). The band's four-song EP from 2207 — which earned them praise from Pitchfork as well as a spot on the Sub Pop register — has been a staple in my musical diet.
Needless to say, the band's debut full-length is one of my most anticipated records of 2008. And the wait is nearly done; The Grand Archive releases on February 19th.
But here's why I'm writing today… Sub Pop has made a new track available for listening. Rejoice! It's called "Torn Blue Foam Couch" and it embodies what made me fall in <3 with the band's live show: gentle lead vocals, stellar harmonies, soft rock sensibilities, echoes of wistful longing countered by pleasant melody, just the right amount of crescendo… it's lovely.
Enough of my blathering; you can listen for yourselves…
Listen to "Torn Blue Foam Couch!"
And mark your calendars for the live shows. The band plays a free all-ages instore at Sonic Boom in Ballard on February 19th (7p) and two official CD release shows at the Triple Door on February 20th, with Sera Cahoone.