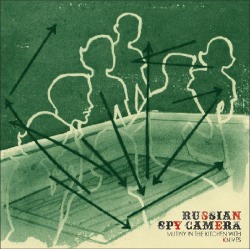 Athens, GA Russian Spy Camera just released their second album, Mutiny in the Kitchen with Knives, and are giving it away to anybody who wants it.
You can download it from their website or MySpace page. If you love it, or even find a piece of it endearing, there's a paypal tip cup link through which you can make a monetary thank you.
I'm currently repeating "Clouds In A Black Sky," "This Town Has Placed A Curse On Me," and "Bring Down The Mannequins." The album is quirk-indie-rock a la Flaming Lips with the ferocity of the Dirtbombs and the yearning of Pinback.