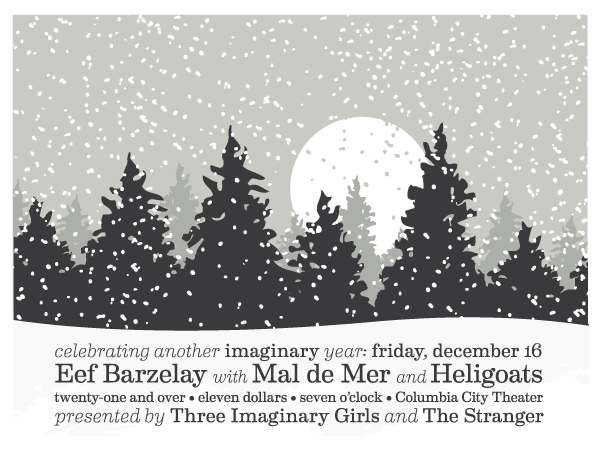 Whether you're ready or not, the holidays are upon us! Seattle is gearing up to be softly aglow as neighbors light up the block with LEDs and the flavors of peppermint, ginger spice and eggnog infuse themselves everywhere. But, best of all, it means it's time for the Imaginary Holiday Party!
This year's shin-dig will be Friday, December 16 at the Columbia City Theater and feature all the important elements of a fabulous holly jolly time:
***MUSIC!***
-> Eef Barzelay (of Clem Snide) will beautifully croon poignant vignettes against a backdrop of holiday melancholy.
-> Seattle supergroup Mal de Mer will dirty it up with their catchy, no holds barred post-garage-pop. With members of Slender Means, The Divorce, Lila, the Amazombies, and Ms Led / The Redwood Plan, you know it's gonna be good.
-> Heligoats come to us by way of Bellingham and bring a road-trip-worthy stash of exuberantly bittersweet songs.
***SANTA RODERICK!***
As is the imaginary tradition, Santa John Roderick will be on hand to spread holiday cheer with amazing photographer Laura Musselman ready to take your photo on his lap. Yes, you read that right. You can sit on Indie-Rock Santa's lap and get your photo taken by an amazing photographer like Ms. Musselman. We do our best to make your holiday wishes come true!
***WARM THE COCKLES OF YOUR HEART!***
The night serves as a perfect opportunity for you to give a little bit back by donating socks, wintertime clothing, interview-appropriate clothing and/or dollars to Teen Feed, benefitting Seattle's homeless youth.
We're taking over the entire venue, with imaginary fun in every corner. Doors are at 7p with Santa photos snapping for the earlier part of the evening in the Bourbon Bar and live music starting around 9p in the main room. Mistle-toe will be available for smooching all night long.
Important shopping note: Limited edition, hand-crafted screenprints of this year's poster by the ever-brilliant folks of Seattle Show Posters / Row Boat Press will be for sale at the event, perfect for this gift-giving season. Did I mention the poster glows in the dark?!
The event is co-sponsored by The Stranger and is going to be an wonderful way to wrap up this year with friends and admirers. Pick up your tickets at Brown Paper Tickets (they are only $11 in advance) and go RSVP on Facebook.
We can't wait to raise a glass of spiked eggnog with you to toast this crazy year (while sitting on Santa's lap – who says you can't have it all?)!