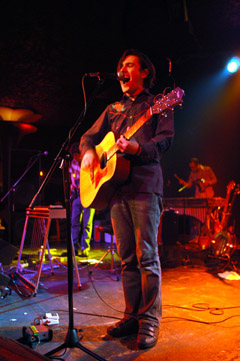 First there's news that my BFFs Hutch and Kathy will be playing shows around the Pac NW debuting new demos and playing some of my old favorites.
And now I get news that my first love Conor Oberst spent January and February in Mexico working on a new album! The new release from the band, whose official moniker for the album will be Conor Oberst and The Mystic Valley Band, will be available to me and the masses via Merge Records on August 5th.
Can any of your smartie download detectives unearth some mp3s please?
Anyone know why this isn't coming out on Saddle Creek (his label home since forever) or Team Love (his own label)?
Here's the full scoop:
This recording was made in Tepoztlán, Morelos, México during the months of January and February 2008. In Tepoztlán, a place known for Aztec Magic and Extra-Terrestrial Sightings, a temporary studio was created in a mountain villa called Valle Místico at the outskirts of town.

It was produced by Conor Oberst with much help from engineer and long time associate Andy LeMaster. A special band was assembled for the recording, known amongst themselves and to friends as The Mystic Valley Band. It was there at Valle Místico that Conor and the band lived and worked for that time in near perfect harmony, often unaware of the hour or the day. The result is his first solo album in thirteen years, following Water (1993), Here's To Special Treatment (1994) and Soundtrack To My Movie (1995). In that time he has recorded and preformed in many bands and musical projects including Commander Venus, Park Ave., Desaparecidos, and most notably Bright Eyes, his main musical vehicle for the past decade.

Conor Oberst and The Mystic Valley Band will be touring in support of this album throughout the summer and have already announced an appearance at September's Austin City Limits festival.

Track List in full:
1. Cape Cañaveral
2. Sausalito
3. Get-Well-Cards
4. Lenders In The Temple
5. Danny Callahan
6. I Don't Want To Die (In The Hospital)
7. Eagle On A Pole
8. Moab
9. NYC – Gone, Gone
10. Valle Místico (Ruben's Song)
11. Souled Out!!!
12. Milk Thistle

Live shows for Conor Oberst & The Mystic Valley Band:
8/22 Leeds Festival – England
8/24 Reading Festival -England
8/31 Electric Picnic – County Laois, Ireland
9/27 ACL Music Festival -Austin, TX