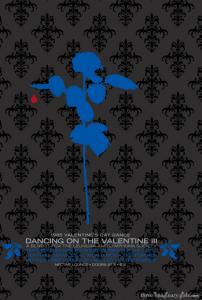 As I wrote on the KEXP blog last week, there are several ways to mark the 14th of February holiday tomorrow. Whether you're celebrating coupledom or on the prowl, there's nice, naughty, and all-ages type fun for everyone.
For the nice:
Head to the Dancing on the Valentine party at Nectar Lounge in Fremont. The evening features a stellar lineup of local bands playing a flashback-to-high-school Valentine's Day dance circa 1985! The posse of grand Seattle bands that will join in the fun include Central Services, The Femurs, Ms. Led, Richard Mountain (members of The Cops) and DJ Danger Nun.
And the nicest part? All proceeds from the night will go to the Leukemia and Lymphoma Society. The show is presented by (and in honor of) our good pal Jenny George, who was diagnosed with Leukemia at the age of 12 and was not expected to live more than 30 days. Luckily, Jenny proved the prognosis wrong, and we're grateful for Jenny's presence in our lives every day. (Three Imaginary Girls is also sponsoring the night.)
For the naughty:
Get a bit saucy at Tom Douglas' Palace Ballroom! The delicious evening features a Latin love feast prepared by Tom Douglas himself and a classic burlesque show starring celebrated burlesque idols (including Miss Indigo Blue, Babette La Fave, Vienna La Rouge, and Belle Cozette). Mmm fancy food and sexy entertainment? That's a tasty Valentine's.
For the underage fair of heart:
Mika, who we saw at last year's SXSW and were stunned into fandom by, is highly recommended for those who want to get dance around in their sparkly red pants. He's playing Showbox SoDo on Valentine's day and it's all-ages and a guaranteed sweaty mess of a grand ole time. My fingers are crossed that we'll be able to get our friend Eduardo into the show to photograph the show. If so, we're all in for a day after treat.
I think I'll be getting pho somewhere and heading over to Nectar for some retro dance party fun.
What are you up to?