Things might look – and feel – a little different at this year's local MEGA comic convention, but after a stripped down version last year, Emerald City Comicon 2022 (Thursday, August 18 – Sunday, August 21) is gearing up to restore itself to pre-pandemic levels of geeky goodness. 
Speaking of COVID; ECCC spun a lotta attendees' around a bit regarding its protocols. In June, they initially said "no masks required" but at the beginning of the month, they put a "masks required" notice in place. The only exception will be during a celeb photo op, in which you can remove your mask for the pic. I am incredibly relieved about this decision! Props to the team for doing what it can to keep attendees safe.
Here are my go-to picks for things to do this year: 
MEET CELEBS FROM YOUR FAVE MOVIES AND SHOWS 
This year's group of stars include universally beloved Brendan Fraser (I am 100% HERE for this Brennasiance!) & Oded Fehr from THE MUMMY, Christopher Eccleston & Billie Piper from DOCTOR WHO; Harvey Guillén & Doug Jones from WHAT WE DO IN THE SHADOWS (well, obvs, Jones is from soooo many good things!); and a trio of fan fave OUR FLAGS MEAN DEATH: Nathan Foad, Con O'Neill & Kristian Nairn – aka "Hodor." Also Felicia Day, who I will never stop crushing on; Cassandra Peterson (ELVIRA4LYFE); and 90's heartthrob Freddie Prinze Jr! 
Autographs & photographs are located at the Hyatt Regency Hotel (about 2 blocks away from the convention center): Celebrity Autographing (Level 3), Celebrity Photo Ops (Level 5).
Also check out these celeb panels on the Main stage (at the Sheraton across the street from the WSCC, Level 2) – or grab a digital pass for $15, which will give you access to *most* panels online:
Friday, August 19, 12:45pm: Doug Jones Spotlight
Saturday, August 20, 11:15am: OUR FLAG MEANS DEATH Cast Q&A
Saturday, August 20, 2:45pm: DOCTOR WHO Panel with Chris Eccleston
Saturday, August 20, 4:15pm: THE MUMMY REUNION
Sunday, August 21, 3:45pm: Felicia Day Spotlight
You might also be interested in What Happened to Steve? (with Steve from BLUE'S CLUES), the TEENAGE MUTANT NINJA TURTLES 30th Reunion Panel, or THE MAGICIANS Reunion.
COSPLAY COSPLAY COSPLAY 
Oh man I cannot WAIT to see what kind of cosplay mashups there are this year and count how many people are dressed in breakup robes from OFMD. But seriously! If you can take a few moments to sit somewhere – either inside or outside in Freeway Park – and just LOOK AT ALL THE COSPLAY, it's an amazing way to spend some time. So much great art; so many screen accurate costumes; and so much goddamn joy. 
And here's my annual reminder that COSPLAY IS NOT CONSENT. Do not take pictures of a cosplayer without asking them first, don't be a fucking creep, and do not ever, ever, EVER touch a cosplayer for any reason.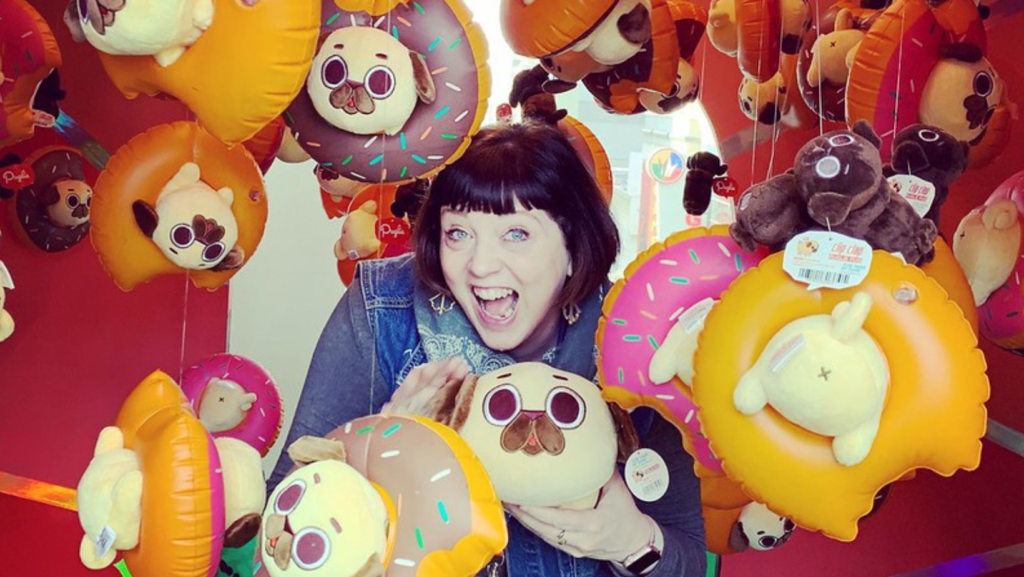 GET YOUR COMICS! IT'S STILL A "COMIC" CON: 
There's always a good amount of bigger and smaller publishers and comic shops on the show floor. My main buying rule is to get at least one book I've never heard of before in my stack of readable items! And of course, there is always a ton of cool art, collectibles, jewelry, and pins to grab as well. 
Here are some booths you should definitely stop by:
DIVE INTO THE PANEL SELECTION
There are always wayyyyy too great panels programmed to be able to make ALL of them, but here are few that caught my eye: 
Genderbending the Rules of Cosplay
Accessibility in Comic Making: Zines Collectives and the Underground
Body Positivity in the Cosplay Community
Queer Space Nine: How An LGBTQ Community Embraced a Show Over 20 Years Later
Convention Horror Stories: An ECCC Tradition
CON SURVIVAL TIPS
Wear your mask!!! (no but seriously please wear your mask; Con Crud is REAL and COVID is still a thing, no matter what the CDC says)
Disposable gloves aren't a bad idea either since you'll probably be touching many things on the show floor
Bring a refillable water bottle with you; it needs to be empty when you enter, but the WSCC has fountains you can fill it up with
Bring some snacks – there are food options, but lines are always, always, always very long
Wear comfy shoes (if you can! I know it might not be possible with your cosplays)
Have plenty of cash in case a vendor's WiFi isn't working
See you on the show floor, friends!