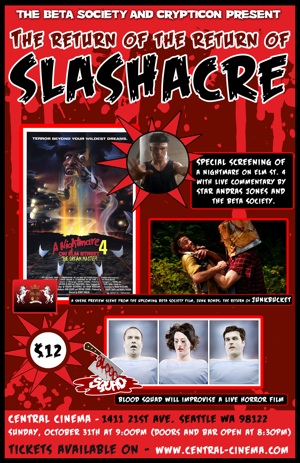 There is so much Halloween goodness to go around this weekend! I need at least 4 clones to attend all the screenings I want to go to. Hopefully you guys are better at choosing than I am, because seriously. This is. too. hard.
First up, Central Cinema has a trio of great things happening: Beetlejuice and Poltergeist are showing on Saturday, with Halloween night being dedicated to The Return of the Return of Slashacre (no, I didn't mistype that), showing A Nightmare on Elm Street 4: The Dream Master. Cast member Andras Jones (!) will be there in person, along with The Beta Society to provide a running commentary, and Blood Squad improvising a live horror film.
SIFF Cinema also has a whole lot Halloween goin' on, with ZomBCon's Films That Ate Our Braaaains happening all day Saturday & Sunday, including Dawn of the Dead, Army of Darkness, and the Evil Dead SMACK DOWN, which includes a showing of the remastered 35mm print of The Evil Dead, plus a special appearance by Ash (!!) himself (the masterful Bruce Campbell), and The Ladies of The Evil Dead. On Halloween, you can see George A. Romero (!!!) and director Jeffrey Reddick talk about remaking Day of the Dead in 2008, which will be shown afterwards. Then there's a screening of the delightfully clever Zombies of Mass Destruction.
There's also Paranormal Activity 2, which is reportedly better than the original. And let us not forget (as much as I'm sure some of you want to) Saw 3D, which I fully intend on seeing at some point on the 31st.