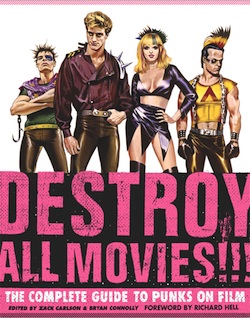 In the spirit of the holidays, I wanted to put together a list of some things I've been reading (and coveting) lately – as well as things on my own wish list – that would make great literary gifts for friends and family this year.
I heartily recommend you head to the local book store near you (may I suggest Queen Anne Books, Elliot Bay, or the UW Book store? Cinema Books on Roosevelt is also an excellent store for movie books – and a "dig through the stacks and explore" kind of place) to pick up a few of these:
MOVIES!
Destroy All Movies!!! The Complete Guide to Punks on Film by Zack Carlson and Bryan Connolly
Our own Chris Estey wrote about how awesome this is earlier this year, and omfg. It IS. Every single movie with any appearance by a punk rocker is detailed within. This book is one of my greatest treasures…and I haven't even gotten past the first 20 pages. Its completeness is amazing, and the reviews/descriptions of the movies are hilarious. I LOVE IT. And I have some half-assed notion of renting all the movies in it that I haven't seen – who wants to dare me?
Deep Focus Books – Heathers, They Live, and Lethal Weapon
When Soft Skull press announced Deep Focus last year I was SO EXCITED. These books are like the movie version of the 33 and 1/3 series. I currently have They Live and Heathers in my collection, and am excited to add more. In addition to the ones listed above, they also have The Sting, Death Wish, and The Bad News Bears in Breaking Training (WHAT) available.
Hammer Glamour | Marcus Hearn
If you are not familiar with Hammer Horror, you should be – not just because they've made some of the finest Dracula films and mastered the art of gothic, bloody terror, but also because of the incredible British BABES. I came across this book in some news feed and immediately proceeded to jump up and down with joy. Gorgeous Hammer stars from the 50s-70s, in a neat coffee-table ready book. This one will go nicely next to my copy of Monsters in the Movies.
Monsters in the Movies: 100 Years of Cinematic Nightmares by John Landis
Part coffee-table picture book, part monster history – this is another movie book for the nerdy completist. It will take me hours and hours to pour through this entire thing, but what I've pawed through so far has been amazing. Landis covers every kind of movie monster in this book, and interviews his friends (some people you may have heard of, like David Cronenberg, Christopher Lee, John Carpenter, and Sam Raimi) about the power of movie monsters. so. awesome.
Adventures in the Screen Trade by William Gibson
One of the best (and funniest) books I've ever read about working as a screenwriter – and hollywood as an industry. Gibson is the cleverest. I heart this guy! Pair it with Which Lie Did I Tell? More Adventures in the Screen Trade – where he claims he rewrote Good Will Hunting and makes fun of Damon & Affleck – for the perfect 2-book gift. And if you're leaning towards fiction, go for a copy of The Princess Bride. If you've only seen the film and have never read the book, YOU ARE MISSING OUT.
MUSIC!
B-Sides and Broken Hearts by Caryn Rose
This is basically chick lit for music-lovers, especially Seattle music-lovers. It's a fictional story about a chick who's WAYYYY into music, and details her heart-breaking journey from, well, heart breaking, to true love. Okay, that makes it sound really cheesy, but basically it's about one hardcore music chick's self-realization, padded with a bunch of great locations and band and concert mentions from NY to Seattle and LA in the 80s and 90s. Fluffy, but fun. I enjoyed traveling through the city with this girl, and I'd rather read this 100x than anything by Jennifer Weiner ever again.
Nick & Norah's Infinite Playlist by Rachel Cohen and David Levithan
This is technically a "Young Adult" book, but that doesn't mean it's not awesome. Detailing the story of one night when two band-loving teens meet, this book flips back and forth between female and male points of view to tell you what's going down. Cohen wrote Norah's chapters, and Levithan wrote Nick's – adding to the authenticity. I really like the movie adaptation, but I really LOVE this book a whole lot more. Also fluffy, but still somehow also painfully real. This book will likely make you relive your teenage angst – at least a little bit. Have a box of tissues ready (and maybe your journal).
Best Music Writing 2010, 2011
This is a no-brainer, but just in case you don't know – these books are a collection of articles culled together to make one big book of amazing music writing…and I have to mention Chris Estey once again, as he's got a piece in the Best of 2010 publication. You can get both the 2010 and 2011 version now.
Record Collecting for Girls: Unleashing Your Inner Music Nerd, One Album at a Time by Courtney E. Smith
Confession: I haven't read this yet, but it's on my wish list! A female perspective on record collecting? WHAT! No way. Anyway, this is broken up into sections like "Guilty Pleasures", "Are We Breaking Up?" and "Beatles Vs. Stones." Also, the promo video on Amazon for this book cracks me up. "I've been to Manchester you know. Exactly where The Smiths did the photo shoot for The Queen is Dead…Yeah, I was there." I might, or might not, agree on refusing to date guys who are way into The Smiths – I'll never tell – but it's hilarious, nonetheless. I'm assuming (based on Courtney's tweets) that the book is just as great.
Love is a Mix Tape: Life and Loss, One Song at a Time by Robb Sheffield
WARNING: This book is a total weeper. A friend of a friend loaned it to me and I almost couldn't finish it because it was so sad. But on top of the sad, it's kind of wonderful. Sheffield describes watching the love of his life die, and details all 7 years of the time he had with her via mix tapes. It's crazy good, but if you want to gift something a little lighter, you might pick up his newer release, Talking to Girls About Duran Duran: Ones Young Man's Quest for True Love and a Cooler Haircut.
ANY 33 1/3 book!
The 33 1/3 series is one of the best things, ever. First, because there are so many to choose from – which means you can find something for almost every single person on your list. Second, because they let a wide variety of music lovers and critics express themselves in long form. There are rows and rows of these books at the Sonic Boom and Easy Street, just FYI! And if you don't know where to start, I suggest Joni Mitchell's Court and Spark by Sean Nelson.