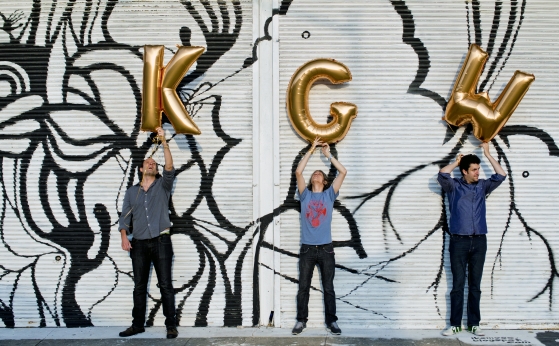 I first fell in love with Kleenex Girl Wonder back in 2001 when I randomly happened upon the song "Road to San Francisco" from the 1998 album Graham Smith Is The Coolest Person Alive. Since then they've released a bunch of albums, making their new release, Let it Buffer (to be released on March 26, 2013 on TWBOS) their twelfth album over the last twenty years.
They combine rumpled lo-fi of Guided By Voices and the microbrew indie-pop of BOAT and spew out candid, casual and sometimes esoteric and chaotic songs. Their songs are never boring, with a few clocking in at under a minute and featuring speculative forays outside the pop norm… and this new album will be the perfect palette cleanser in my usual diet of brit-pop, classic indie-pop, Jack White, Conor Oberst and twee.
To further feed everyone's KGW fandom, throughout 2013, KGW will offer 4 free (or very cheap) rare or unreleased tunes with the purchase of certain physical items (e.g. T-shirts or prints) from kgw.me.
I haven't been able to hunt down any samples from the new album, so listening to "Road to San Francisco" will just have to do:
Previous entries on my Best of 2013 list exposed so far:
BOAT
The Redwood Plan
Pony Time
Stornoway
Math & Physics Club
Tullycraft
Thermals
{2013 has barely started and I've already put tougher my nearly probably very likely official Top 10 Favorite Releases for 2013, even though I've actually only heard a couple albums on the list… that's how good I know these albums are going to be. Over the course of 10 days I'll countdown these probably very likely AMAZING releases that make up my very likely possibly concrete list of my favorite albums of 2013! You can follow along with this link.}