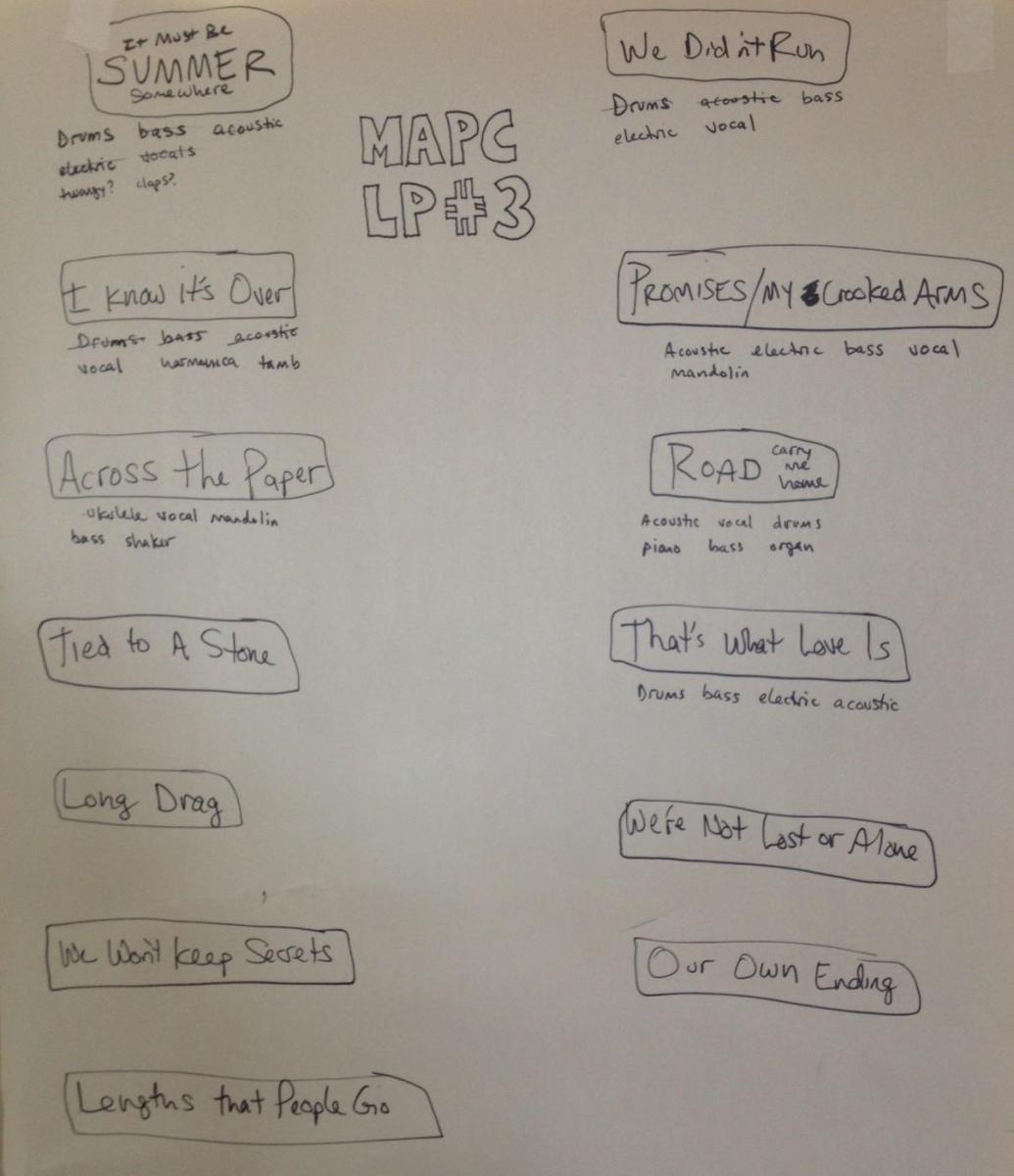 For the last few months the boys of MaPC have been teasing us with photos on their Facebook page of them recording at K Records' Dub Narcotic Studio in Olympia. Just last week, February 11, 2013 to be exact, they posted a photo with the caption "Finished mixing the new album today – woohoo!" To me that sounds like new MaPC songs are just a couple moons away!
But, these things sometimes take time so I'm not sure when the record will be done or exactly how many songs will be on it (is the above photo a complete tracklisting?) or what it's going to sound like, but with MaPC, you know it's going to be twee-licious!
I was able to pull a couple details from the group about the new record. It's going to be titled Our Hearts Beat Out Loud and the cover art will be designed by Tae Won Yu, the amazing designer most lovably known for your favorite Built To Spill cover art and super sweet illustrations that you can put in your Buy Olympia shopping cart.
Sidenote: I bet I'm going to love the songs "It Must Be Summer Somewhere" and "Our Own Ending." Any gut feelings on which songs you'll love the most based on the song title?
In the meantime, we can all meet at the Tractor Tavern on February 24 when Math & Physics Club open up for Ocean Blue. We can grill them for details then!
Until that time, we can just stare at the above tracklisting and listen to my favorite song from their second album on repeat, "We're So DIY":
Previous entries on my Best of 2013 list exposed so far:
BOAT
The Redwood Plan
Pony Time
Stornoway
{2013 has barely started and I've already put tougher my nearly probably very likely official Top 10 Favorite Releases for 2013, even though I've actually only heard a couple albums on the list… that's how good I know these albums are going to be. Over the course of 10 days I'll countdown these probably very likely AMAZING releases that make up my very likely possibly concrete list of my favorite albums of 2013! You can follow along with this link.}