This just in: rumor has it that R.E.M.'s Peter Buck will likely be in attendence at the early Steve Poltz show at the Tractor this Saturday, April 14th!! (In case you didn't have your chance to ooh and ahh at the legendary Buck at last Friday's Robyn Hitchcock show at the Croc last Friday, well, now's your chance!)
igLiz spent a good deal of time at Poltz shows back in her Phoenix days (little known fact: igLiz once upon a time actually had Phoenix days! Craaaazy). She says his shows are "fun and quirky, like a good Austin-style show." Raise a beer!
Here's proof that the fellas are pals and have common taste in footwear (from Steve's website).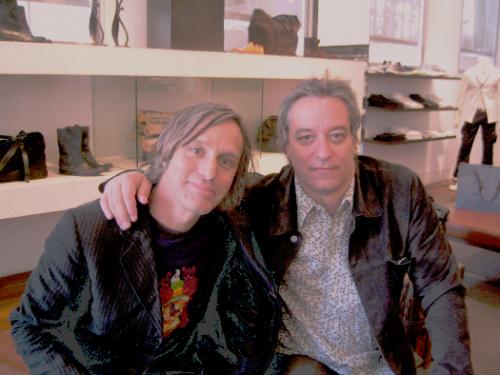 Will Buck be joining Poltz onstage? We sure hope so!