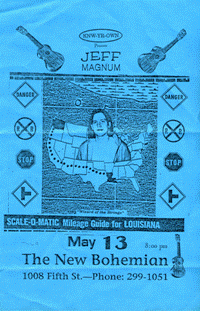 It's turning out to be a Neutral Milk Hotel retro kinda week!
I've found TWO ultra-rare Neutral Milk Hotel mp3s, and an awesome YouTube video of one of Neutral Milk Hotel's last performances. And I love them all so much, I have to share.
Yesterday the Elephant Six blog, Optical Atlas, posted an mp3 of "Bucket" – a Neutral Milk Hotel song from long ago (and I think only available on an out of print 1994 Yoyo Records compilation, Periscope). You should go download it now (before they take it down).
Listening to that song (6 times in a row) inspired me to go YouTubing… and I found this incredible video of Neutral Milk Hotel performing "King Of Carrot Flowers Part 2 & 3" in Athens, GA. After a bit of research, it might have been their last show as a full band (Jeff has played some shows solo… but this is the last time on record of them performing as a full band). I nearly wept it was so… spectacular.
Over the weekend I was introduced to a new blog named I'm Not Always So Stupid which is written by a smart cutie named Nancy (of Cher Doll Records fame). So far she's been posting something everyday and each post is a short tale related to indie-pop or vintage britpop complete with a (usually ultra-rare) mp3. Nancy's Saturday post kicked off Neutral Milk Hotel week with a tidbit about NMH's Jeff Mangum's time in Seattle and an mp3 of the song "Up and Over We Go" which is from the 1993 Cher Doll EP The Amazing Phantom Third Channel. Perhaps you will recognize this song as an early version of a song you know and love? Again, go download it now, you never know how long this good fortune will last.
Now hit repeat.