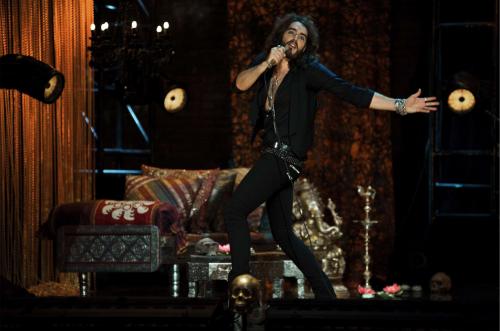 Who amongst us didn't love Forgetting Sarah Marshall? Who amongst us didn't fall in love with Russell Brand and his over the top rock star persona (even though some of you don't want to admit it) in the movie?  Who didn't want to Twitter him a big "Brilliant kudos!" after he hosted the 2008 MTV Video Awards a slipped in that swift G W Bush jab on live TV?
Yeah, he's pretty rad.
We're excited to be able to send one imaginary reader a copy of his new DVD of his recent stand-up Comedy Central special (complete with leather-clad bonus material):  Russell Brand in NYC: Extended & Uncensored.
To enter the drawing, all you have to do is email us at tig at threeimaginarygirls.com with the subject line "BrandNewLeatherPants" before 9a on Friday, June 5th.