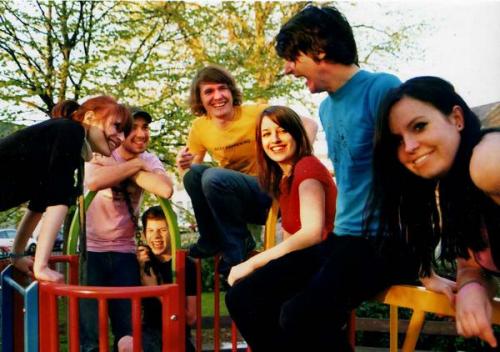 Narrowing down my favorites for this year was HARD! I'm sure I'll find even more 2007 releases I adore in 2008… but here's what has been in obsessively high rotation this year.
Note: I still battle with how I can rank EPs versus full albums, or collections of previously unreleased material… but using my current logrhythm, here's what it came out to today…
Los Campesinos! Sticking Fingers Into Sockets (Arts & Crafts)
Fishboy Albatross: How We Failed to Save the Lone Star State with the Power of Rock and Roll (Happy Happy Birthday To Me)
Tullycraft Every Scene Needs A Center (Magic Marker)
Eames Era Heroes and Sheroes (Self-Released)
Bright Eyes Cassadaga (Saddle Creek)
BOAT Let's Drag Our Feet! (Magic Marker)
The White Stripes Icky Thump (Warner Brothers)
Jarvis Cocker Jarvis (Rough Trade)
Okkervil River The Stage Names (Jagjaguar)
Math & Physics Club Baby I'm Yours (Matinee)
Fred Astereo Don't Break My Heart (Lost & Lonesome)
Eux Autres Cold City Happy (Happy Birthday To Me)
The Femurs Modern Mexico (HomeSpun)
The Fratellis Costello Music (Cherry Tree)
Your Favorite Book Scotch Hog (Self-Released)
Urban Legends Of Old Lost Days (Contraphonic)
Jens Lekman Night Falls Over Kortedala (Secretly Canadian)
Throw Me The Statue Moonbeams (Baskerville Hill)
Team Gina Gina Gina Revolution (Self-released)
This year I've got a bunch of New Year's resolutions. One of them is to podcast more and make more mix cds. That's what I love doing… so I should do it more often, right? To get started off right, I've compiled my 2007 mix cd of favorites into an iMix so I can point to some of the specific songs that have rocked my world over the last 12 months (not all my favorite songs were on iTunes which makes this an abbreviated version of the tangible mix cd I compiled). Download, sample and enjoy!