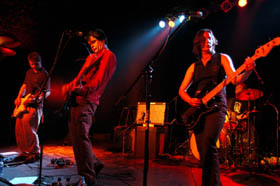 Good news just came in from our Wedding Present friends!
They've confirmed details that result in a full 2008 planned for us. They're finishing up a new record with Steve Albini at the helm — yes, the same Steve Albini who engineered the beautiful, noisy, perfect album Seamonsters! ("Is that what you call a dalliaaaaaaaaaance?") It will be released on their own Scopitones record label in the Spring.
BUT THAT'S NOT ALL! They've also put together a compilation album (that includes a couple of unreleased a b-side tracks) and a live album and DVD recapping their stellar 2005 performance at Shephard's Bush Empire in London!
And if you're looking for a time / place to hug David Gedge in person, you can see him at the Bestival taking place in the UK's Isle Of Wight over the weekend of September 5th, 6th and 7th.
Here's the full scoop from them:
THE WEDDING PRESENT RECORD NEW LP WITH STEVE ALBINI

The Wedding Present are currently recording tracks for a new album in Steve Albini's Electrical Audio studio in Chicago. The long-player, which is scheduled for a spring release will be the first Wedding Present record to be engineered by Albini since Seamonsters in 1991, although he has worked with David Gedge's other band, Cinerama on several occasions.

The recordings have apparently been going very well, although, when the band needed to play one of the new songs again in order to get a guitar part right, Albini was heard to say "Don't drive yourselves crazy doing it over and over… and by 'yourselves' I mean me!"

David, Terry, Chris and Graeme have also become addicted to 'electricals', frothy coffee drinks invented by Albini himself.

NEW COMPILATION AND LIVE ALBUMS RELEASED

In the wake of The Wedding Present's recent "George Best 20th Anniversary Tour" there have been two releases by the band.

The first, "YÉ YÉ : THE BEST OF THE RCA YEARS" is a fifteen track compilation bringing together RCA recordings selected by David Gedge from the band's Bizarro and Seamonsters LPs, Top 40 singles from 1992's 'Hit Parade' series, a couple of noteworthy b-sides and a recently unearthed and previously unreleased demo version of Bizarro track 'Be Honest'. The album also includes the band's spirited version of Cockney Rebel's 'Make Me Smile (Come Up And See Me)'.

The complete track-listing is: Kennedy; Bewitched; Brassneck; Don't Talk, Just Kiss; Make Me Smile; Dalliance; Dare; Corduroy; Heather; Blue Eyes; California; Come Play With Me; The Queen Of Outer Space; Flying Saucer; Be Honest (Electric Version). The album also comes with an eight-page booklet featuring sleeve notes by acclaimed writer and radio presenter Steve Lamacq.

Hot on its heels comes "SHEPHERD'S BUSH WELCOMES THE WEDDING PRESENT" featuring live recordings taken from the band's appearance at London's Shepherd's Bush Empire on 20 November 2005. As well as being recorded for this 21-track CD, the concert was also filmed for a live DVD, which will be released in the spring.

The complete track-listing for this album is: Corduroy; Sucker; Blue Eyes; Always The Quiet One; Après Ski; Go Out And Get 'Em, Boy!; Don't Talk, Just Kiss; Loveslave; A Million Miles; Suck; I'm From Further North Than You; Come Play With Me; It's Not You, It's Me; Crushed; 2, 3, Go; Click Click; Ringway To Seatac; Brassneck; Nobody's Twisting Your Arm; Kennedy; Heather.

THE WEDDING PRESENT TO PLAY AT BESTIVAL

The Wedding Present have confirmed their first live appearance of 2008 by accepting an invitation to play on the UK's Isle Of Wight. The band will be appearing at Bestival, which takes place on September 5th, 6th and 7th. Tickets are on sale now for this 'boutique' festival, the web site for which is: http://www.bestival.net/