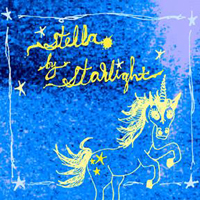 Speaking of how it is going to be a great day… this morning I pulled stella by starlight's self-released EP from it's DIY photocopied sleeve, slipped it into my computer and I haven't stopped listening to this 7-song EP since.
They are from Seattle, WA and are totally all over the Lush / shoegazer catalog, but update it with the catchiness of the Rentals (did you just gasp a little too?) and the melodic sweetness of Juliana Hatfield and early Belly.
My favorite song is "Fade" — which isn't on their MySpace page — so until you get yourself over to iTunes to buy their EP — bliss out to "Daisy Crown," which is featured on their MySpace page.
And no, I'm not too concerned that their name is very similar to another britpop-infused love of mine (stellastarr*) — "stella" and "star" are like peanut butter and chocolate; So tasty when put together.
{imaginary update: Stella by Starlight are now Star Lake Drownings!!!}