Intiman is turning 40 this summer, and after a series of setbacks in the last few years (which culminated in a 2011 half-season cancellation, layoffs of the theater's entire staff, and near financial collapse) it's back in a big way with a summer theater festival unlike anything I've seen during my dozen years in Seattle: four separate productions sharing a repertory company of seventeen local actors playing more than 40 roles in 80 performances. It's happening through August 26, and it's an event you really should experience at least a part of.
Because unless you completely loathe theater, there's something for you here: a new local piece (Dan Savage's Miracle!); a challenging contemporary drama (Proof author John Patrick Shanley's Dirty Story); an iconic Ibsen (Hedda Gabler); and, of course, a Shakespeare (Romeo and Juliet). Some of Seattle's best talent is involved on the boards and behind the scenes: local actor-treasures Marya Sea Kaminski and Timothy McCuen Piggee shine brightly in three plays each. And the set-design team, headed by the uber-talented Stranger Genius (and third luminary of this festival) Jennifer Zeyl, has built a versatile, visually surprising playground on the mainstage to support three of the shows, plus a completely separate mini-world (for Dirty Story) in an intimate new studio space. What a thrill.
Here are my thoughts on each production, listed in order of awesomeness.
HEDDA GABLER by Henrik Ibsen
Directed by Andrew Russell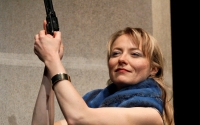 Here's our Ibsen antiheroine, just back from her outrageous honeymoon, fending off annoying in-laws and negotiating her less-than-ideal existence, all while being circled by a capricious former lover, a wealthy judge with a particular motive, and a hapless husband whose baby she secretly carries. Marya Sea Kaminski (who so ferociously embodied Hedda a few years back in Washington Ensemble Theatre's original adaptation, blahblahblahBANG!) leads a pack of great performances — Timothy McCuen Piggee as uptight Judge Brack is the other notable standout — but the real star of this production is Jennifer Zeyl. Here in particular she's created with her sets not just a physical atmosphere but an inner world. Shadows cast on see-through fabric hint at characters' duality and tenuous statuses, cool grays and blues give way to primal pops of color, a lonesome chill overtakes a capricious abode. Just amazing.
DIRTY STORY by John Patrick Shanley
Directed by Valerie Curtis-Newton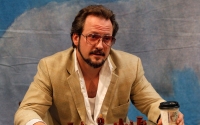 This strange but fascinating play — about a volatile couple prone to frequent skirmishes and less-frequent reconciliations — is likely far less accessible than anything you may have seen by its award-winning playwright and screenwriter John Patrick Shanley (Doubt, Moonstruck). But for the theatrically adventurous it's absolutely worth checking out. This is the only Festival piece not on the Intiman's main stage, and Zeyl's design team has made brilliant use of a cool new studio venue. It's a perfect container for some brilliant performances, namely by Shawn Law (the male half of the battling duo) and Quinn Franzen (an amusingly repugnant cowboy-type who turns up near the end of the first half). The material forces me to be arbitrarily vague, especially about the inside-out Act II, but suffice it to say its characters are stand-ins for players in a larger conflict. Go with your current-events cap on, and let Dirty Story's absurd, violent truth find you.
ROMEO AND JULIET by William Shakespeare
Directed by Allison Narver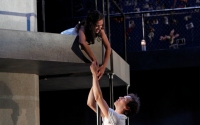 Intiman's first-ever (!) production of the iconic romance epic puts the Montagues' and Capulets' codependent addiction to violence on full physical display as they slash and tussle and (especially the rowdy Montague boyz) maneuver acrobatically around Verona — just wait'll you see handsome young Romeo (Franzen, wildly different from his nasty Dirty Story character) bust out his Cirque moves around the balcony scene. Yowza. Kaminski frequently steals the show in a fiercely hilarious turn as Juliet's old nurse, and Piggee, as Lord Capulet, manages yet another emotional gut-punch in an key confrontation that trumps everything leading to it. Then of course there's Zeyl, whose use of in-memoriam photos is one great scenic device on yet another triumphant set. But despite great acting and nifty execution modernizations, it's still Shakespeare, and therefore often akin to watching a film in an intermediate skill-level language, sans subtitles. But if you're a Shakespeare purist or Eng-Lit major, the familiar text is intact, and you still get to marvel at idioms still active in our collective English lexicon more than four centuries hence.
MIRACLE! created and directed by Dan Savage
Choreography by Waxie Moon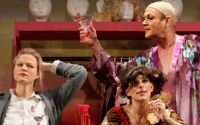 Raised by the elder drag-queen owner of a glittery cabaret called Brass Connection (often referred to as "Ass Infection", har har), a young blind-and-deaf queen named Helen Stellar struggles to find her voice with the aid of out-of-town tutor Annie Sullivan (well-played by Hannah Victoria Franklin). Kaminski manages to stand out yet again as Annie's busybody admirer, and it's great to see Piggee's fab transformation into the statuesque Gloria Blaize. Miracle! is often as fun as it sounds, but Dan Savage is no miracle worker and theater is not where his talents lie: Many jokes hit their squeam-riot targets, while many flail as wildly and stumble as clumsily as our dear Helen on the Ass Infection stage. The funniest bit relies on the horribly trashy (and great) Khia chestnut "My Neck, My Back" (NSFW!), a marvel of vulgarity. I always savor a good opportunity to laugh at inappropriate subject matter, and I give props to Intiman for giving Miracle! a shot, but this type of low-end lowbrow is better suited to Rebar.
See one or see 'em all. Just go, and celebrate a Seattle legend's four-decade run, and give it your support. Local arts need you now more than ever. See intiman.org for ticket and schedule info.